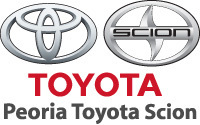 Peoria, IL (PRWEB) March 15, 2009
Peoria Toyota-Scion, located at Allen Road and Willow Knolls Road in Peoria, IL, was awarded three Toyota Excellence Awards for outstanding performance in Parts, Service, and Customer Relations. The Toyota Excellence Awards are presented to retailers who exceed Toyota's standards of sales and service excellence over a 12-month period.
The Toyota Excellence Award winners from Peoria Toyota-Scion include Curt Baumgart, Service Director; Bob Snyder, Parts Director; and Keri Reilly, former Customer Relations Manager, currently Internet Marketing Manager. The winners will attend a recognition event on March 21, 2009, at Chicago's Shedd Aquarium.
Consistently among the leaders in Toyota's Chicago region in sales and customer satisfaction, Peoria Toyota-Scion of Pearl Automotive has earned a Toyota Excellence Award for two years in a row.
Pearl Automotive is part of the Pearl Companies, a privately held, multifaceted organization located in Peoria Heights, IL, that also includes Pearl Insurance, Pearl Technology, Pearl Benefits, Pearl Carroll & Associates LLC, and W.B. Griffin & Son. The Pearl Companies' commitment to working hard, working smart, and working together has not only placed them in the enviable position they are today, but has also secured them a strong presence in the marketplace for years to come. For more information, please visit http://www.pearlcompanies.com or call 800.447.4982.
###