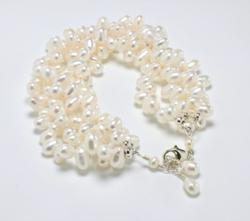 "The perfect bridesmaid jewelry gifts will tie in with the theme and colors of your wedding and be something that your bridesmaids will want to wear again and again."
Deerfield Beach, FL (PRWEB) September 29, 2011
Online bridal and bridesmaid jewelry retailer Beth Devine Designs offers advice to brides who are selecting jewelry gifts for their bridesmaids. With the fall wedding season underway, many brides are in search of the perfect jewelry to give as gifts to their bridesmaids. Since jewelry given as a traditional bridesmaid gift is usually intended to be worn during the wedding, the key is to find earrings, necklaces and bracelets that will look great with the bridesmaid dresses and be thoughtful bridesmaid gifts.
The bridal party usually consists of close friends and family and it is important to choose gifts that show appreciation and make them feel special. "The perfect bridesmaid jewelry gifts will tie in with the theme and colors of your wedding," says Beth Devine "and be something that your bridesmaids will want to wear again and again."
With so many styles of bridesmaid jewelry to choose from, Beth Devine suggests pearl bridesmaid jewelry as an excellent choice for bridesmaid jewelry gifts. Freshwater pearls are relatively inexpensive compared to saltwater pearls, are extremely versatile and will easily work within most wedding themes. A gift of simple pearl drop bridesmaid earrings are an accessory that will never go out of style and are likely to be a much-appreciated gift that will be worn for years.
Pearls come in many shades and are likely available in a color that will accent almost any dress, including the rich shades of plum, brown and green that have been popular bridesmaid dress colors this fall. If you would like to stick with pearl jewelry in neutral tones, shades of cream, ivory and champagne pearls will coordinate well with dresses in warmer tones" says Beth Devine "and white, pink or grey pearls will accent dresses in cooler tones."
Since more and more brides are opting for non-identical bridesmaid dresses each year, Beth Devine advises to keep the varying necklines in mind when choosing bridesmaid necklaces. To select matching necklaces for bridesmaids with different dresses, look for a simple one, like a strand of pearls or a single teardrop pearl necklace that will look great with most necklines.
Beth Devine recommends considering each of your bridesmaids' individuality when choosing bridesmaid jewelry gifts and making sure that necklaces and bracelets are sized properly. Many jewelry designers will offer customization and sizing options online at the time of purchase. After making a gift selection, present your bridesmaid's jewelry in gift boxes tied with a ribbon to make a statement of your gratitude. Include handwritten note cards to personally thank each of them.
About Beth Devine Designs
Beth Devine has been designing jewelry for over six years and opened Beth Devine Designs in 2006. Since then, she has expanded her collection to also include a special line of handmade jewelry for brides, ranging from formal to more casual, non-traditional bridal jewelry. Beth Devine Designs offers a special wedding party discount for brides and bridesmaids. To save 15% off 3 or more items, please enter promo code "bridalparty" during checkout.
Beth Devine Designs is based in South Florida and offers a selection of handmade designer jewelry that includes over 200 pieces of elegant and wearable jewelry. Designed and impeccably handmade to last a lifetime, an array of materials are used, including natural gemstones, genuine Swarovski crystal beads, freshwater pearls, sea shells and coral. Metals used include either sterling silver or 14k gold filled.
All jewelry is handmade to order and usually ships in about 3 days. Free standard shipping is available on orders over $100 and complimentary gift boxes are available upon request. Please feel free to visit Beth Devine Designs at http://bethdevinedesigns.com
###