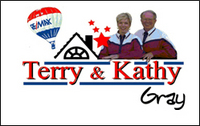 Terry and I realize that buying or selling a home is a major financial event in our lives. Buying a home is the biggest purchase most of us will ever make. The house you choose must be functional and fit your family's lifestyle.
Pearland, TX (PRWEB) February 1, 2010
Terry and Kathy Gray, the premier husband and wife real estate team in Pearland, Texas, today announced the launch of their new website – WeSellPearland.com. Designed to complement the superlative level of services that Terry and Kathy have offered since 2001, the website promises to be a valuable resource for all prospective buyers of Pearland, TX, real estate.
As longtime real estate investors, Terry and Kathy Gray offer a unique professional perspective that can be helpful to anyone interested in Pearland, TX, properties for sale. But on top of that, the team also puts a strong emphasis on their friendly and neighborly approach to clients – based on their longstanding reputation as community members as well as inspired by the local presence of their family. This has clearly influenced the way they have designed their website, which is more approachable than many competing sites, easy to navigate and filled with useful tools and information.
The homepage greets visitors with an elegant and balanced layout – a stunning picture of the area, followed below by a horizontal navigation bar and then a welcome message. The navigation bar is a well-organized system to allow users get to the other pertinent areas of the site, from an informative 'Our Communities' page to the 'Buyers/Sellers Information' page. Selecting 'Meet Terry & Kathy' allows you get to know more about their background, interests and personalities.
The 'Our Listings' section features both current and sold featured properties, but for many prospective buyers the complimentary MLS search tool is a must-see. The MLS is the quickest and most efficient way to begin searching through all of the available Pearland homes for sale.
Terry and Kathy Gray have indeed achieved another milestone in their career. For more information, visit http://www.wesellpearland.com today.
About Terry and Kathy Gray: The husband and wife team of Realtors®, Terry and Kathy Gray, have been top producing agents in Pearland, Texas since 2001. They specialize in residential properties in the area including the 55+ communities of Country Place, The Lakes of Country Place, Shadow Creek, Silver Creek, Silver Lake, Southwyck, Southdown and Sunrise Lakes. Terry and Kathy are also active investors, and own several apartment units in the area. Recently designated as Certified Distressed Properties Experts, The Grays have in-depth knowledge of avoiding foreclosures by modifying loans or doing a "short sale".
# # #