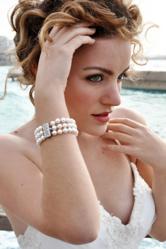 Pearl & Clasp is proud to offer this website for quality jewelry and unique pearl clasps.
New York, NY (PRWEB) May 16, 2012
Pearl & Clasp, premier source for fine pearl jewelry clasps, announced today that the company has launched a new e-commerce website. Visitors to the website can choose from a wide range of stylish pearl jewelry. The innovative company also re-strings pearls and creatively updates existing pearl jewelry with an attractive new clasp. Pearl & Clasp is proud to offer the widest selection of pearl clasps on the internet.
Based in the heart of New York's Diamond District, the Pearl & Clasp team has restrung thousands of pearls over the years and has helped customers to choose just the right pearl jewelry and clasps. The company specializes in transforming worn or outdated pearls into show-stopping pieces by adding pizzaz with a well-chosen diamond or gold clasp. Customers can find the full selection on the new website. The company also offers complimentary pearl restringing with the purchase of any clasp in its online store.
With the launch of its new website, the Pearl & Clasp team is excited to expand their services to consumers beyond the New York area. Pearl & Clasp is committed to helping consumers find the perfect pearl jewelry, from a single strand pearl necklace to timeless bridal pearls. The company is meticulous in the merchandise it carries, selecting items not only for beauty, but also for outstanding quality.
Pearl & Clasp also offers a comprehensive style lookbook to help shoppers choose exactly the right piece. The website's easy navigation makes finding the perfect pearl necklace, pearl bracelet, or pearl earrings straight-forward. Pearl & Clasp's professional style team is also available to answer questions by email or phone and to offer style advice and product information.
About Pearl & Clasp
Pearl & Clasp is a jewelry website specializing in quality pearl jewelry, pearl restringing services, and pearl clasps. In addition to providing a wide selection of pearl jewelry, Pearl & Clasp provides helpful information so that consumers make educated and comfortable decisions about the type, size, and style of their pearl jewelry. For more information visit: http://www.pearlclasp.com.