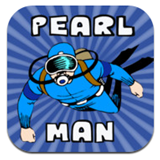 Addictive, Challenging and Fun!
(PRWEB) June 08, 2012
Take a break and go scuba diving, with the new iphone tilt game, "Pearl Man." The retro-styled arcade scuba diving game with tilt control, gives players the ultimate challenge from level to level. Complete each timed level, while also dodging harmful enemies like stinging jellyfish, to collect pearls to win the grand prize — a large shell that opens to reveal a special pearl, which advances the player to the next level.
As a game that has been called 'addictive,' 'challenging,' and 'fun,' Pearl Man is constantly being updated with newer and even more exciting levels. Join the excitement today by visiting http://www.pearl-man.com, or downloading it free from the app store at http://itunes.apple.com/us/app/pearl-man-lite/id486660092?mt=8.
After you're done diving in the ocean, visit Treasure Hut Jewelry. As a custom jewelry designer and premier jewelry repair shop based in Syracuse, New York, Treasure Hut Jewelry is known for their freshwater pearls. With the widest selection of natural freshwater pearls in the Syracuse area, they offer many custom design options for truly unique and special jewelry.