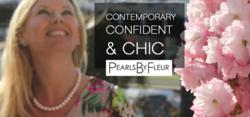 Pearls By Fleur is known for its beautiful quality pearl jewellery and it's contemporary, confident and chic approach to accessorising the modern business woman
London, UK (PRWEB UK) 1 June 2013
Pearls By Fleur Founder Louise Tippey has worked in the fashion industry throughout her career with experience in modelling through to more recently being recognised as an expert style advisor, specialising in helping business women with their corporate image.
"Working with women on improving their business image has given me a wonderful insight into the importance of getting the business look just right. The finishing touches like the choice of pearls really does matter" reflects Louise.
Fully appreciating the importance of accessorising an outfit and the impact the right type of jewellery can make when it comes to first impressions helped influence her decision to launch Pearls By Fleur.
"How you are seen in the workplace is so important – people instantly create an impression of your competence and your ability to fit in with the team, often just based on how you look. Wearing beautiful pearl jewellery has an understated elegance. It's a way of showing you have confidence in who you are as a business woman by creating that polished look." says Louise.
Pearls By Fleur have brought together a beautiful collection of the best quality freshwater pearl jewellery. This timeless collection features a range of pearl necklaces, pearl bracelets, pearl earrings and pearl rings – available with white gold, gold, and the highest grade sterling silver finishing.
With modern designs from the signature "fleur" (flower) earrings and matching bracelet through to the classic pearl string chokers, black pearl earrings and Gatsby inspired rope necklaces – there is something for everyone in this collection. Customers can shop matching pearl sets to create their elegant look, or they can simply select a great item which fits in well with their existing wardrobe.
"Our collection is a unique, modern take on pearl accessories that resonates with today's business woman. Our customers are ambitious, driven women who excel in their careers and who want to look the part in everything they do. I am delighted that our beautiful pearl jewellery makes them feel special and can give them that little bit of extra confidence in the workplace." Louise comments.
Working in partnership with Pinstripe & Pearls – the department store for women in business, therefore seems a natural fit for the Pearls By Fleur brand. Emma Blake, CEO at Pinstripe and Pearls says "The launch of the new pearl jewellery range in our store is very exciting for our customers. At Pinstripe & Pearls we genuinely appreciate the frustrations felt by many extremely busy, corporate women – pressure to look the part, and zero time to spend searching for that perfect corporate outfit. Being able to shop beautiful contemporary pearl jewellery alongside our designer business wear gives our ladies real confidence that their complete business image is on trend for today's modern work place."
Pearls By Fleur will be running a Pop Up Shop in Camberley, Surrey from 6th June as part of Start Up Britain's campaign to support new British businesses.
View the full Pearls By Fleur collection now exclusively stocked at the Pinstripe & Pearls department store for women in business.