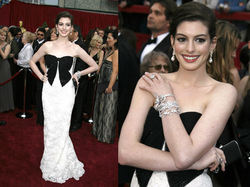 San Francisco, CA (PRWEB) October 3, 2007
Anne Hathaway at the 79th annual Academy Awards was wearing a pair of gorgeous South Sea pearl earrings. Indeed, elegant, stunning, classic, pearl jewelry has become a favorite on the red carpet.
Yan Berry, founder of PremiumPearl.com, a San Francisco-based online pearl jewelry site, said that the earrings Anne was wearing usually cost a few thousand dollars at jewelry stores, and cost even more (more than $20,000) at famous stores such as Mikimoto and Tiffany. By shopping online at reputable pearl jewelry sites, however, you can get a much better deal than at such jewelry stores. The key is simply to ask more questions before you buy online, and to be aware that some stores may misrepresent their pearl quality and diamond grading.
Started in 2004, PremiumPearl.com aims to provide the best value to customers all over the world. Berry personally flies around the world to select the top-quality pearls her site offers, and spends days in each trip trying to pick the most lustrous and clean pearls from exclusively selected suppliers.
Berry is also a talented jewelry designer, and has a passion for designing elegant jewelry with her top-quality pearls. Her jewelry is a favorite of Hollywood stars such as Fergie and Tamara Braun.
Berry notes that pearls are ideal for making an outfit more glamorous, add a nice touch to a casual ensemble, and are a great gift idea for any special occasion. To add the chic look of pearls to your life, visit Premium Pearl at http://www.premiumpearl.com/.
###