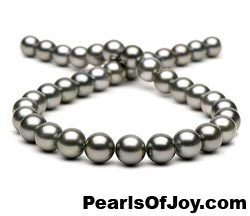 For example, a $12,000 South Sea Pearl Necklace purchased from our site on Cyber Monday would retail for around $50,000 elsewhere.
Los Angeles, CA (PRWEB) December 3, 2009
Kevin Canning, president of Pearls of Joy, reports that the online pearl jewelry retailer had a dramatic increase in sales on Cyber Monday as compared to 2008. In addition, shoppers on the site spent more money on big-ticket items as compared to last year, including a $12,000 South Sea Pearl Necklace, potentially signaling an improving economy.
Pearls of Joy wasn't the only online retailer who saw a record number of shoppers on Monday. According to web analytics firm Coremetrics, online sales on Cyber Monday rose 14% this year from last year, while in store spending over the four-day Thanksgiving weekend fell 8%. This can be due to the fact that online retailers are offering money-saving discounts that oftentimes outweigh in store sales on Black Friday and throughout the holiday shopping season. In addition, many consumers view shopping online as convenient, saving them time and stress. Also, a number of web retailers, including Pearls of Joy, allow shoppers to place their orders as late as December 23 in order to receive their gifts in time for Christmas.
"When holiday shoppers purchase from Pearls of Joy, they can select from a large and diverse stock of high-quality pearl jewelry while avoiding the hassle of going to a shopping mall or store," said Canning. "In addition, because we buy our pearls directly from pearl farmers around the world, we are able to sell our products at prices significantly less than traditional jewelry stores. For example, the $12,000 South Sea Pearl Necklace purchased from our site on Cyber Monday would retail for around $50,000 elsewhere."
About Pearls of Joy:
PearlsOfJoy.com is a web-based retailer of pearl jewelry based in Los Angeles. Their e-commerce site launched in 2000 and offers one of the largest selections of pearl jewelry online. PearlsOfJoy.com has rapidly become the first choice for customers looking for exceptional value at the lowest possible price. Their phenomenal growth is fueled by customer referrals and repeat business.
Pearls of Joy grew from a small E-Bay based business to a large international company with satisfied customers all over the world. The company has enjoyed triple digit growth year after year and continues to expand their selection of fine pearl jewelry.
###