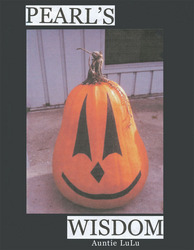 Pearl's Wisdom is an honest book
Racine, WI (Vocus) November 18, 2010
Are positive attitudes acquired early in life? A new book for young readers aims to educate children on the importance of looking on the bright side.
In her first book Pearl's Wisdom, author Auntie Lulu conveys the lessons taught by a seemingly ordinary Halloween pumpkin named Pearl. Through a picture book of photos rather than illustrations, the former middle school teacher shows that Pearl is different from all other Halloween pumpkins. She enjoys her life and friends and smiles through life's challenges.
"Pearl's Wisdom is an honest book," says Auntie Lulu. "All the photos are original and untouched. The wind blew off her eyes and her nose, but the smile stuck on until the end."
The story, inspired by a real pumpkin that stayed with her from Halloween through January in her backyard, emphasizes the importance of viewing life as a gift and smiling even when times are hard. An encouraging read, Pearl's Wisdom brings both entertainment and a positive message to parents, children and educators alike.
"It's fun reading it to kids and watching their wide-eyed reaction," she says. "It's a good story anytime of the year. The message is inspirational. Keep smiling!"
About the author
Auntie Lulu is a retired middle school teacher from Racine, Wisc. She currently reads children's books to elementary school classes. As a teacher, she wrote and directed several plays for her students (her favorite being "Harry Poppins") and was also a radio reader to the blind for three years.
Auntie Lulu enjoys playing golf in her free time and resides near Lake Michigan with her husband. They also have homes in Falsterbo, Sweden, and Long Boat Key, Fla. She attended Macalester College in St. Paul, Minn. This is her first book.
AuthorHouse is the premier book publisher for emerging, self-published authors. For more information, please visit http://www.authorhouse.com.
###