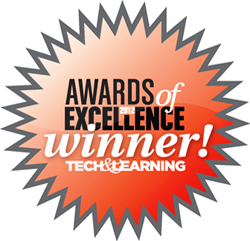 New York (PRWEB) November 07, 2012
Nine of Pearson's K-20 digital learning tools are winners in the 2012 "Tech & Learning" magazine Awards of Excellence. Leading the prestigious competition for the third consecutive year, Pearson's collection of online and mobile products illustrates its commitment to supporting schools, colleges and universities as they make the bold transformation to digital. Celebrating its 30th year, this recognition program honors K-12 technology products that break new ground, as well as those that added significant enhancements to proven education tools.
Pearson's 2012 Awards of Excellence winners are Briggs/Cochran Calculus Early Transcendentals, 1e eText; Connections Education Math Teachlets - Algebra and Geometry; Connections Education State Signature Courses; Miller & Levine Biology iBook Textbook; Online Learning Exchange; Pearson Algebra I Common Core Edition iBook Textbook; Pearson Compass Suite; Pearson Geometry Common Core Edition iBook Textbook; and WriteToLearn. The winning products will be featured in the December 2012 issue of "Tech & Learning" magazine, as well as on the website.
About the Pearson Winners
Three new Pearson iBook Textbooks are honored with this year's Award of Excellence for new products: Pearson Algebra I Common Core Edition, Pearson Geometry Common Core Edition and Miller & Levine Biology. With these multi-touch digital books, high school students can take control of their own learning and explore concepts in-depth with enhanced visuals, interactivities, videos and self-quizzes powered by tactical touch functionality. The Miller & Levine Biology iBook Textbook, based on the world's bestselling high school biology program, leverages the power of mobile technology to make science come alive for students. Stunning four-color interactive pages add extraordinary depth to the award-winning curriculum as students control their own experience -- pinching, stretching, tapping and dragging beautiful illustrations, animations, content, video and photos.
Also earning its first Award of Excellence is Pearson's Online Learning Exchange, a web- and mobile-ready platform where high-quality content combined with flexible tools enable teachers and students to exchange ideas, collaborate and enhance the learning experience. With Online Learning Exchange, teachers can build customized lessons; search for content by keyword, course and standard; upload their own content right alongside Pearson content; track student progress via homework and tests; and access eTexts.
Two offerings from Connections Education also were honored with their first Awards of Excellence: Math Teachlets - Algebra and Geometry and Education State Signature Courses. Connections Education's Teachlet tutorials are online instructional modules that help students understand challenging topics by presenting them in fresh and engaging ways. The algebra and geometry tutorials, which are aligned to state and Common Core standards, enable students to explore concepts, work through problems, apply and build upon skills, and make real-world connections as they interact with the content. With Connection Education's State Signature Courses, elementary students are guided through their state histories by The Guild of Inquisitive Robots, who pose intriguing questions and encourage students to think critically and creatively as they explore the history, culture, geography, government and economy of their states.
Pearson's upper-level math eText, Briggs/Cochran Calculus Early Transcendentals, 1e eText, rounds out the company's honors in the new-products category. The eBook was created by Eric Schulz, a mathematics professor at Walla Walla Community College in Washington. The eBook combines narrative material, examples and exercises with 650 Interactive Figures and is being used at more than 200 schools as an instructional and learning resource.
Two Pearson programs, WriteToLearn and Pearson Compass Suite, were recognized in the Best Upgraded Products Category. Earning its third Award of Excellence, WriteToLearn is the complete online tool for building writing skills and developing reading comprehension for students in grades 4-12. With WriteToLearn, students practice essay writing and summarization skills, and their efforts are measured by Pearson's Knowledge Analysis Technologies™ (KAT) engine. The tool provides feedback on six traits of writing – ideas, organization, conventions, sentence fluency, word choice and voice – and allows students and teachers to focus on each of these important dimensions of writing. Pearson Compass Suite is both a diagnostic and prescriptive professional development tool. The software streamlines the process of observations, allowing evaluators to input data easily via laptop or mobile device and to generate insightful reports that identify teaching trends and areas for improvement. It is highly customizable, supporting local evaluation frameworks, content and reports. The suite identifies targeted areas for improvement and automatically suggests online professional development from a library of thousands of videos, tutorials and online modules.
About Pearson
Pearson, the world's leading learning company, has global reach and market-leading businesses in education, business information and consumer publishing (NYSE: PSO).
For more information:
Kate Miller, kate(dot)miller(at)pearson(dot)com - 800.745.8489