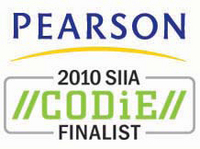 Boston, MA (PRWEB) April 16, 2010
Pearson, a global leader in education, technology and services, today announced that MyMathLab, the company's groundbreaking online homework and tutorial program, has been selected as a finalist in the 2010 Software & Information Industry Association's (SIIA) CODiE Awards. MyMathLab is a finalist in the categories of Best Mathematics Instructional Solution and Best Postsecondary Instructional Solution.
Established in 1986, the CODiE Awards celebrate outstanding achievement across the software, digital information and education technology industries. Nominated products underwent an intensive review by subject matter experts, analysts, journalists and others with deep expertise in education technology.
Pearson's MyMathLab personalizes learning with tutorials that provide immediate feedback and targeted help where and when students need it the most. Students learn at their own pace, in their own style, while educators are able to monitor progress and communicate with their students online to keep them engaged and accountable for their work.
MyMathLab can be customized to suit each student's level of knowledge and can be used in any environment--lab-based, hybrid, distance learning or traditional classroom. Features include an interactive eText, video lectures, tracked tutorials and additional resources for learning during homework assignments. Instructors can easily create, import and manage online homework, quizzes, and tests, all of which are automatically graded for instant student feedback--allowing instructors to spend less time grading and more time working with their students.
MyMathLab has proven effective at helping institutions to improve student achievement and control costs. For example, at the University of Alabama, using MyMathLab has helped improve student success (as measured by the percentage of students receiving a grade of C or better) between 20 and 30 percent, while retention rates are up at least 10 percent over the past five years. The university has achieved these results while producing a cost savings of 28 percent over traditional courses.
"We are honored that MyMathLab has been recognized as a finalist in the 2010 CODiE Awards," said Greg Tobin, President of Mathematics and Statistics at Pearson. "This groundbreaking approach to math learning offers a technology-driven, data-rich learning solution that has proven a resounding success at improving student performance and institutional effectiveness."
MyMathLab is also being used to tackle the issue of college readiness. For example, LSU created a pilot to bring the university's math program to high schools across Louisiana using the MyMathLab platform. In addition, two new Algebra courses from award-winning Pearson author Elayn Martin-Gay are now available within the MyMathLab platform, allowing teachers to teach their Algebra 1 and Algebra 2 courses completely online, with course management tools, a complete, interactive eText and multimedia library.
Pearson has 13 finalists in the CODiE Awards this year, leading the prestigious competition. Pearson's innovative education technology solutions for schools, colleges and universities are recognized across the award program's education categories, honoring the company's worldwide leadership in harnessing technology to personalize and improve learning. Pearson's 13 finalists were chosen from more than 327 education nominations submitted by 124 companies.
In addition to MyMathLab, the company's products moving on to the next round of competition in the CODiE Awards are CourseConnect™, Pearson LearningStudio (formerly Pearson eCollege), MathXL® for School, MyCourse, Mastering Platform, MyWritingLab, myWorld Geography™, Miller & Levine Biology™ Digital Path, Prentice Hall Literature Online (PHLitOnline) and PowerSchool.
In the next step of the CODiE Awards process, Pearson's MyMathLab will be voted on by the entire SIIA membership to determine the winners in each category. The 2010 CODiE Awards will be announced at the 2010 Ed Tech Industry Summit in San Francisco on May 24.
For more information about MyMathLab, visit http://www.mymathlab.com .
About Pearson
Pearson has global-reach and market leading businesses in education, business information, and consumer publishing (NYSE: PSO).
Media Contact: Susan Aspey, Susan.aspey(at)pearson(dot)com or (800) 745-8489
###