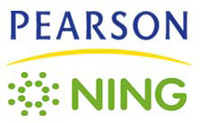 With so many issues swirling around for teachers today, we recognize that they are hungry for peer-to-peer contact and feedback
New York, NY (Vocus) June 25, 2010
From pre-k through college, more and more educators, parents and students are gravitating to social media networks to share their frustrations and ask for help, offer solutions to their colleagues, or just plain get validation of their efforts to improve student outcomes. Ning (http://www.Ning.com) has become the platform of choice by educators everywhere. As Ning transitions to its new offerings and pricing model in July, these education networks will be able to stay online – free – thanks to sponsorship by the education services and technology company Pearson.
Ning.com currently hosts 6,500 K-12 and 2,100 Higher Ed social networks. They run the gamut from Ning Networks designed for novice teachers, or for teachers of specific subject areas, to individual school and alumni networks and those where teachers offer help to students outside of the classroom, just to name a few.
For example, Silvia Knittel created the Prime Sheet Network (http://primesheet.ning.com) as a place for juniors and seniors in high school to interact on their fine arts writing assignments. In addition to feedback from the teacher and access to homework assignments, professional writers regularly sign-in to provide real-world mentorship and advice to the students.
"With so many issues swirling around for teachers today, we recognize that they are hungry for peer-to-peer contact and feedback," said Pearson Senior Vice President for Business Development Gary June. "Underwriting the costs of these Ning Networks is one way that Pearson can provide support for their commitment and dedication to improve teaching and learning." He added, "As we are increasingly embracing social media across virtually all aspects of life, we want to help in that critical area of keeping the dialogue among teachers, students and parents wide open."
"Education Network Creators on Ning represent some of the most vibrant examples of the collaborative power of Ning," said Ning CEO, Jason Rosenthal. "Pearson is the leader in online education globally, so we are delighted that they share our view of the importance of social technologies for education and are sponsoring these networks to continue to provide an opportunity for everyone interested in education to have a voice."
"Using Ning in my writing classroom has changed my teaching more than any single thing I have ever done," said Silvia Knittel. "I am so thankful to Ning and Pearson for creating this educational tool and allowing educators to continue to have free access to our network. It's a fantastic teaching resource."
Under the Pearson sponsorship of Ning's education networks, existing participants will have the opportunity to opt-in to the program and maintain seamless uninterrupted access for everyone to their networks; new education networks joining will also be able to enjoy Ning's robust features free of charge. For more information or to opt-in, please visit : http://about.ning.com/pearsonsponsorship/.
About Pearson
Pearson (NYSE:PSO), the global leader in education services, technology and school solutions, provides innovative print and digital education materials for preK through college, student information systems and learning management systems, teacher professional development, career certification programs, and testing and assessment products that set the standard for the industry. Pearson's other primary businesses include the Financial Times Group and the Penguin Group. For more information, go to http://www.pearsoned.com.
About Ning
Ning is the leading online platform for the world's organizers, activists and influencers to create social experiences that inspire action. Based in Palo Alto, Calif., Ning offers an easy-to-use service that enables people to create custom branded social networks. With more than 300,000 active Ning Networks created across politics, entertainment, small business, non-profits, education and more, millions of people every day are coming together across Ning to connect around the topics they are passionate about. Ning was co-founded in October 2004 by Chairman Marc Andreessen and Gina Bianchini and is privately held. For more information, visit http://www.ning.com.
Contacts:
Pearson – Kate Miller – 1.800.745.8489
Ning – Jordan Fischler - 973–885-2655
###