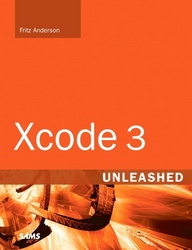 INDIANAPOLIS (PRWEB) October 8, 2008
News Facts
The iPhone Developer's Cookbook provides readers with the skills they need to build applications for the iPhone by presenting them with recipes they can apply to their applications, rather than exhaustive documentation. This title will soon be available to all Safari Books Online customers. Or for a free Safari trial account online readers can sign up at http://safari.informit.com.In addition, the final print book can be pre-ordered here: http://www.informit.com/title/9780321555458. Readers might also be interested in our recently published books Cocoa Programming for Mac OS X by author Aaron Hillegass and Xcode 3 Unleashed by author Fritz Anderson. Upcoming titles include iPhone Programmer's Road Map and Cocoa Design Patterns, currently available as Rough Cuts and both releasing early next year. Author Bio
Erica Sadun is the bestselling author, co-author and contributor to over two dozen books on programming, digital video, digital photography, and web design, among others. She blogs for TUAW.com and O'Reilly's Mac DevCenter and Digital Media sites and regularly contributes full-length articles to each of these sites and is a Contributing Editor at ArsTechnica. In addition to being the author of over a dozen iPhone-native applications, Erica holds a PhD in Computer Science from Georgia Tech's Graphics, Visualization and Usability Center. A geek, a programmer, and an author, she's never met a gadget she didn't love. When not writing, she and her geek husband parent three adorable geeks-in-training, who regard their parents with restrained bemusement.
About Pearson Education
The global leader in educational and professional publishing, Pearson Education is home to such respected brands as Addison-Wesley Professional, Cisco Press, Exam Cram, IBM Press, Prentice Hall Professional, Que, and Sams Publishing, which have as their online publishing arm, InformIT (http://www.informit.com) -The Trusted Technology Learning Source. In addition, Berkeley-based Peachpit (http://www.peachpit.com), the publishing partner for Adobe Press, Apple Certified, and others, publishes best-selling books for creative design professionals. Pearson is also co-founder, with O'Reilly Media Inc., of Safari Books Online (http://safari.informit.com), the premier on-demand technology content library providing thousands of expert reference materials through a single point of contact, including expert technology, creative and design, industry and management resources in video, audio and written formats. Pearson Education is part of Pearson (NYSE: PSO), the international media company. Pearson's other primary businesses include the Financial Times Group and the Penguin Group.