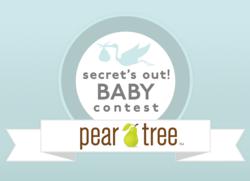 "We've made this Baby Contest easy, interactive and touching," said Ferrara. "Expecting mothers will love telling their stories, others will enjoy reading and voting, and what mom-to-be won't be excited about the prizes?!"
Mankato, MN (PRWEB) July 12, 2011
The moment a woman learns she is pregnant, she is overcome with a plethora of emotions. And this mother-to-be likely wants to share those same feelings with loved ones.
Many women deliver the news of a pregnancy in unique and creative ways. And now, Pear Tree Greetings, a top creator of photo birth announcements, is giving mothers-to-be even more reason to be excited about their announcement with a Baby Contest. The contest gives expecting mothers the opportunity to share their unique story of delivering the big news for a chance at winning $1,000.
"Working regularly with moms-to-be on birth announcements and other personalized greetings, we hear of so many unique ways they share the life-changing news of expecting a baby. From having a sibling deliver a video message to grandparents, or telling their husband by giving them a handmade invitation to the birth of their child, the stories give us all goose bumps," said Angela Ferrara, director of product development, Pear Tree Greetings. "Through this contest, we want those memorable stories to be told, to inspire and to share the excitement around the news of a baby on the way."
As mothers-to-be submit their creative stories via photo, video or essay by August 31, 2011 they are then encouraged to solicit votes from friends and family via email or social channels such as Facebook or Twitter. Those entries with the most votes will go to a final round, from which a panel of judges will chose a winner by September 18, 2011.
The grand prize of a $1,000 Visa gift card and $100 credit toward personalized birth announcements is an ideal gift for any expecting mother. And nine other top finalists will also win $100 towards birth announcements from Pear Tree Greetings.
"We've made this Baby Contest easy, interactive and touching," said Ferrara. "Expecting mothers will love telling their stories, others will enjoy reading and voting, and what mom-to-be won't be excited about the prizes?!"
Please visit http://babycontest.peartreegreetings.com for the complete Baby Contest rules and regulations.
About Pear Tree Greetings
Pear Tree Greetings is a top manufacturer of personalized cards offering an array of stationery for a variety of occasions including Save the Date cards, Christmas cards, graduation invitations and birth announcements. It also hosts a blog that presents celebration ideas, highlights personalization tips and allows consumers to share ideas. Winner of the SheKnows 2010 Parents' Choice Award, Pear Tree's custom greetings are made simple, affordable and absolutely keep-worthy. For more information about the company, please visit http://www.peartreegreetings.com
###