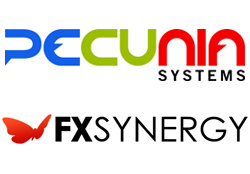 it's extremely rewarding to hear our customers say how much it has improved their overall trading and profits
Malaga, Spain (PRWEB) September 18, 2012
The Financial Summit is a 3-day event, starting on Wednesday, September 19th 2012, featuring more than 25 of the sharpest minds in the world of finance, investing, trading and personal coaching. Pecunia Systems are thrilled to be presenting FX Synergy on Thursday morning, including a very special time-sensitive bonus.
Released in August 2011, FX Synergy is widely known as the ultimate trade management software for the MT4 platform. "I could not imagine ever going back and trading without all the benefits that this software provides" said Rick Thoennes, a private trader from Minnesota. Designed for all levels of trading "We would recommend this platform for anyone that wants to manage several clients and different brokerages simultaneously on the MT4 platform" said Garen Ovsepyan, Managing Director of SharpeSigna.
Recently reviewed by DailyForex.com, FX Synergy is getting rave reviews across the board. "FX Synergy is a fantastic tool to simplify the process" says Christopher Lewis, trader and reviewer at DailyForex.com, adding that with 1-Click Execution "The amount saved over the long run can really add up over time. Traders will be hard pressed to find a better solution".
Private traders are also raving about the benefits of using FX Synergy. It "allows me to execute changes and decisions that I make within seconds" said Frode Husbyn, a private trader from Norway, adding that "It also provides me with a much better and easier control of my trades".
"There's nothing like it on the market, period. That's why we made it." Said Claus Stokholm, CEO of Pecunia Systems, adding that "it's extremely rewarding to hear our customers say how much it has improved their overall trading and profits".
Supporting up to 20 MetaTrader accounts, FX Synergy is a true multi-account and multi-broker trade management solution. "The majority of traders using MetaTrader aren't aware of how simple and easy their trading would become, if they were using the right tool".
FX Synergy's main features include:

1-Click Execution
Risk Calculation
Multiple Accounts & Brokers
Group Trades
Stealth Mode
Break-Even
Trailing Stop (multi-level)
Stop Reverse (multi-level)
Scale In (multi-level)
Partial Close (multi-level)
News Alerts
Presets
Pecunia Systems offers a free 30-day trial of FX Synergy on their website.
More information
FX Synergy – Trade Manager for MetaTrader
Media Contact
Martin Enevoldsen
Chief Software Architect
Pecunia Systems S.L.
Direct +45 224 688 60
martin.enevoldsen(at)pecuniasystems(dot)com
About Pecunia Systems
Pecunia Systems S.L. is a privately held company specializing in software and services for financial trading, with offices in Malaga, Spain and Copenhagen, Denmark. Pecunia Systems flagship product is FX Synergy, an outstanding trade manager for MetaTrader. More information about Pecunia Systems is available at http://www.pecuniasystems.com