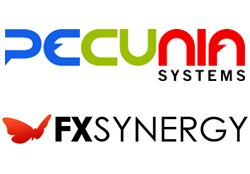 FX Synergy can do so many things in terms of trade management that you wouldn't believe it until you see it
Malage, Spain (PRWEB) November 01, 2011
Following the very successful launch of FX Synergy nearly 3 months ago, Pecunia Systems are now hosting live training and information webinars every weekday to show traders what FX Synergy is all about.
"FX Synergy can do so many things in terms of trade management that you wouldn't believe it until you see it, and that's one of the primary reasons we are launching these webinars so that everyone can see just how fantastic this software really is" said Claus Stokholm, CEO of Pecunia Systems.
"Most traders using MetaTrader aren't aware of how simple their trade management can become, if they are using the right tool" said Claus Stokholm, adding that "Traders often use a mix of several Expert Advisors and scripts to try managing their trades, which obviously isn't very easy or even effective".
"We want to show all traders how simple and easy trade management becomes when using FX Synergy" said Martin Enevoldsen, Chief Software Architect of Pecunia Systems, adding that "Seeing really is believing, and that's what these webinars are all about. You get to see first-hand what FX Synergy can do and how it works".
Pecunia Systems are hosting 2 different webinars: An intro webinar for everyone interested in learning more about FX Synergy and seeing it in action, and a support webinar for existing customers. Check out the webinar section on their website for the current webinar schedule and online registration.
More information
FX Synergy Webinars
Media Contact
Martin Enevoldsen
Chief Software Architect
Pecunia Systems S.L.
Direct +45 224 688 60
martin.enevoldsen(at)pecuniasystems(dot)com
About Pecunia Systems
Pecunia Systems S.L. is a privately held company specializing in software and services for financial trading, with offices in Malaga, Spain and Copenhagen, Denmark. Pecunia Systems flagship product is FX Synergy, an outstanding trade manager for MetaTrader™. More information about Pecunia Systems is available at http://www.pecuniasystems.com
###