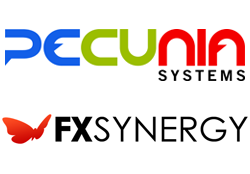 everything is seen on one screen and I can adjust my orders on all platforms with the hit of a button
(PRWEB) September 27, 2011
Traders managing accounts across multiple brokers often manage accounts individually, as they don't have a multi account management system which is broker independent. Traders want an overview of trades across multiple accounts, and more features to optimize their trading strategies and simplify trade management.
FX Synergy, a multi account management system for MetaTrader™ developed by Pecunia Systems, is completely broker independent and works with any broker using the MetaTrader platform. "The ability to manage all trades in one place, regardless of account type or broker, is extremely beneficial" said Claus Stokholm, CEO of Pecunia Systems, adding that "Traders managing multiple accounts often manage each account separately, which greatly impacts their trading, as they quickly spend more time managing the trades than actually trading the accounts".
Prior to using the multi account manager from Pecunia Systems "I would have to fumble around between 5 different platforms and try to keep my trades organized and profitable" said Rick Thoennes, a professional trader, adding that "With the use of FX Synergy everything is seen on one screen and I can adjust my orders on all platforms with the hit of a button".
FX Synergy can manage up to 10 MetaTrader™ accounts, giving traders the unique feature of placing orders on multiple accounts across multiple brokers with a single click using 1-click execution. Designed by professional traders, FX Synergy offers functionality that greatly improves trade management, including many features not found in MetaTrader™. FX Synergy is a Windows™ application that runs together with MetaTrader™.
FX Synergy's features include:

1-Click Execution
Multiple Accounts
Group Trades
Stealth Mode
Trailing Stop
Break-Even
Stop Reverse
Scale In
Partial Close
News Alerts
Presets
Support for Dukascopy™ trading platform JForex planned for Q4 release.
Pecunia Systems offers a free 30-day trial of FX Synergy on their website.
More information
FX Synergy – Multi Account Manager for MetaTrader
Media Contact
Martin Enevoldsen
Chief Software Architect
Pecunia Systems S.L.
Direct +45 224 688 60
martin.enevoldsen(at)pecuniasystems(dot)com
About Pecunia Systems
Pecunia Systems S.L. is a privately held company specializing in software and services for financial trading, with offices in Malaga, Spain and Copenhagen, Denmark. Pecunia Systems flagship product is FX Synergy, an outstanding trade manager for MetaTrader™. More information about Pecunia Systems is available at http://www.pecuniasystems.com
###