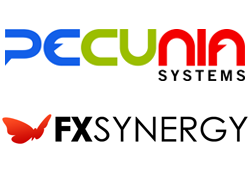 It allows me to execute changes and decisions that I make within seconds.
Malaga, Spain (PRWEB) January 17, 2012
Following the very successful launch of FX Synergy last summer, Pecunia Systems are now releasing the latest version of their market leading trade management software. "We have improved quite a few existing features and added several new ones. This is definitely the best and most feature-rich version to date," said Claus Stokholm, CEO of Pecunia Systems.
One of the main features of FX Synergy is 1-click execution, allowing traders to execute orders on multiple accounts with a single click. FX Synergy is "an absolute must for both the novice trader and professional" said Rick Thoennes, a professional trader, adding that with 1-click execution, FX Synergy "has enhanced my trading and my equity balance is proof that it works."
FX Synergy manages up to 20 MetaTrader accounts simultaneously, making FX Synergy a true multi-account and multi-broker trade management solution. "No other trade management software on the market offers execution across multiple MT4 brokers with a single click," said Claus Stokholm.
Prior to using the multi-account trade manager from Pecunia Systems "I would have to fumble around between 5 different platforms and try to keep my trades organized and profitable" said Rick Thoennes, adding that "With the use of FX Synergy everything is seen on one screen and I can adjust my orders on all platforms with the hit of a button."
FX Synergy "allows me to execute changes and decisions that I make within seconds" said Frode Husbyn, a private trader from Norway, adding that "It also provides me with a much better and easier control of my trades."
"The majority of traders using MetaTrader aren't aware of how simple and easy their trading would become, if they were using the right tool" said Claus Stokholm, adding that "When you get feedback from traders saying that they don't want to trade without FX Synergy, you know you have a really solid product on your hands".
FX Synergy's main features include:

1-Click Execution
Multiple Accounts & Brokers
Group Trades
Stealth Mode
Break-Even
Trailing Stop (multi-level)
Stop Reverse (multi-level)
Scale In (multi-level)
Partial Close (multi-level)
News Alerts
Presets
Pecunia Systems offers a free 30-day trial of FX Synergy on their website.
More information
FX Synergy – Trade Manager for MetaTrader
Media Contact
Martin Enevoldsen
Chief Software Architect
Pecunia Systems S.L.
Direct +45 224 688 60
martin.enevoldsen(at)pecuniasystems(dot)com
About Pecunia Systems
Pecunia Systems S.L. is a privately held company specializing in software and services for financial trading, with offices in Malaga, Spain and Copenhagen, Denmark. Pecunia Systems flagship product is FX Synergy, an outstanding trade manager for MetaTrader. More information about Pecunia Systems is available at http://www.pecuniasystems.com.
###