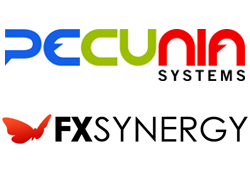 allows me to execute changes and decisions that I make within seconds
Malaga, Spain (PRWEB) September 20, 2011
Traders using MetaTrader™ cannot place orders as fast as they want to. Institutional traders have used 1-click execution for decades to place orders with a single click, most private traders still missing this vital feature. Fast moving markets mixed with delays in order placement limits profits for traders. Traders want 1-click execution to speed up order placement and increase profits with better entries.
FX Synergy, an outstanding trade management system for MetaTrader™ developed by Pecunia Systems, adds 1-click execution to any MetaTrader platform regardless of broker. "Our clients are amazed that it works with any broker using MetaTrader" said Claus Stokholm, CEO of Pecunia Systems, adding that "Most traders don't realize how important 1-click execution is to their trading; the fact is you are missing out on profits if you can't place your order the second you spot a good trade setup".
The trade management software from Pecunia Systems "allows me to execute changes and decisions that I make within seconds" said Frode Husbyn, a private trader from Norway, adding that "It also provides me with a much better and easier control of my trades".
FX Synergy can manage up to 10 MetaTrader™ accounts, giving traders the unique feature of placing orders on multiple accounts across multiple brokers with a single click using 1-click execution. "This feature alone is an industry-first, no other trade management software offers this functionality" said Martin Enevoldsen, Chief Software Architect of Pecunia Systems.
FX Synergy is designed by professional traders, offering functionality to greatly improve trade management, including many features not found in MetaTrader™. FX Synergy is a Windows™ application running side by side with MetaTrader™.
"It's our goal to make FX Synergy the industry-standard Forex trade management software" said Claus Stokholm, adding that "MetaTrader™ is already a fantastic trading platform, and FX Synergy greatly enhances its usability".
FX Synergy's features include:

1-Click Execution
Multiple Accounts
Group Trades
Stealth Mode
Trailing Stop
Break-Even
Stop Reverse
Scale In
Partial Close
News Alerts
Presets
Support for Dukascopy™ trading platform JForex planned for Q4 release.
Pecunia Systems offers a free 30-day trial of FX Synergy on their website.
More information
FX Synergy – Trade Management Software for MetaTrader
Media Contact
Martin Enevoldsen
Chief Software Architect
Pecunia Systems S.L.
Direct +45 224 688 60
martin.enevoldsen(at)pecuniasystems(dot)com
About Pecunia Systems
Pecunia Systems S.L. is a privately held company specializing in software and services for financial trading, with offices in Malaga, Spain and Copenhagen, Denmark. Pecunia Systems flagship product is FX Synergy, an outstanding trade manager for MetaTrader™. More information about Pecunia Systems is available at http://www.pecuniasystems.com
###