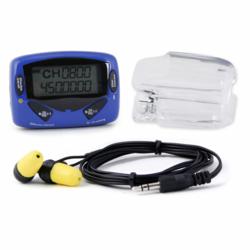 If a radio saves you once; it has more than paid for itself
Rochester, NY (PRWEB) July 17, 2012
The Nitro family of race scanners is no bigger than a pager, but offers a price, comfort and features sure to appeal to the Racer as well as the Fan.
The Nitro Bee is a single channel uhf receiver with channel lock, capable of being programmed in the 450-470mhz frequency range. It's no bigger than a small pager and comes with a Holster Clip and Stereo Ear Buds. Many race-sanctioning bodies are requiring their drivers to have such receivers so that the race officials are able to communicate directly with the drivers in case of an emergency or during restarts for re-gridding to speed the show along. The reason this type of single frequency receiver is required, is because many sanctioning bodies don't permit use of 2-way radios between the driver and crew, for fear that they may be used to gain an advantage or aid in blocking.
The Nitro Scan is a uhf scanner that can be programmed to pick up frequencies in the range of 450-470mhz range. It can also be programmed with CTCSS and DCS tones. The user can save up to 5 frequencies. With the Lock function the users can listen to a single channel or scan through all saved channels. This means the user can program to most any 2-way radio. The Nitro Scan is great for a Racing Fan who wants to listen into the communications of his favorite driver and Crew Chief.
It was once said, "If a radio saves you once; it has more than paid for itself". This applies to Road Racing where radios are permitted between the drivers and the crew; The tracks are usually 2-3 miles in length and have corner workers stationed around the track who have radios to communicate back to the tower where race control is located. In this case, the Crew Chief on pit lane has a Headset with a scanner such as the Nitro Scan connected, along with a 2-way radio to communicate back and forth with the driver. The situation might be one such as this; someone blows a motor and lays oil down on the track, corner worker sees it and makes a call into race control, "oil down in turn number X", crew chief hears this and can immediately relay this to the driver, the driver now has this very important information and hopefully able to avoid hitting the oil. Most of us have driven on ice, lets just say it's not good hitting oil at high speed... The driver may have just been saved thousands of dollars in damage as well as harm.
Both these scanners/receivers have uses beyond the racing community as well. Businesses that want to be able to communicate to their workers that may be some distance away, such as, ware houses, ski slopes, amusement parks, security, fire, polices, etc, can now do so affordably.
For more information or to purchase these products contact PED Products or visit the website. Enter discount code "PRweb to receiver a special order discount on Nitro products.