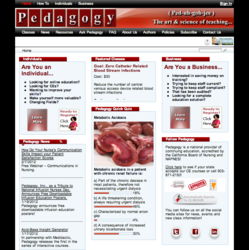 "...the online education format standardizes information presented while the expense for health care providers is a lot less," notes Capra Dalton, CEO for Pedagogy, Inc.
Tyler, TX (PRWEB) February 13, 2012
Realizing the need for an efficient and effective means to provide educational and training courses for nurses, nurse practitioners, physicians, pharmacists, nurse aids and medical assistants, Patrick and Capra Dalton decided to apply their respective skills to create Pedagogy, Inc.
As a consultant for a national pharmacy company serving long term care facilities, Capra Dalton, RN and Pedagogy CEO, previously traveled throughout the state of Texas teaching infusion therapy to nurses within a traditional classroom setting. "I began to notice that nurses were having difficulty travelling to locations for these two-day courses due to conflicts with their typical work schedules, child care issues, travel expenses, and of course, ensuring proper coverage at the nursing homes where they worked," observed Capra.
Relaying her experiences to her husband, Patrick Dalton, Capra was at first skeptical about Patrick's suggestion that the courses could be delivered online. However the more Capra thought about Patrick's idea, the more the it took hold, "I realized that these classes could be presented in an online format and resolve so many barriers that traditional classroom education can present for busy health care professionals. Plus, the online education format standardizes information presented while the expense for health care providers is a lot less."
Since establishing the company two years ago, Pedagogy has experienced significant growth in both the number of users and course offerings. While Pedagogy started out as regional online service provider, the company now serves the medical personnel from long-term care and acute care providers, and home health and home care agencies from across the country.
The Daltons started Pedagogy with only two employees who are responsible for programming and technical support. Recently, the company added a director of sales; several academic and clinical content developers, software specialists, and will soon add a director of marketing.
While Pedagogy began with a focus on infusion education courses for individual nurses, demand has led to recent research on subjects including nursing home administration, respiratory therapy, physical therapy, and courses for pharmacists and pharmacy technicians. The company's philosophy centers on providing evidenced based education that is both useful and relevant to today's health care professionals. Pedagogy's courses are accredited by the California Board of Nursing and the Florida Board of Nursing through CE Broker.
Capra, who is responsible for education course content and all operational aspects of Pedagogy, brings 24 years' practical experience in infusion therapy and instruction of licensed nurses in infusion therapy. She is a member of the Infusion Nurses Society (INS), the National Association for Practical Nurse Education and Services (NAPNES), and the Council of Practical Nurse Educators (COPNE), and presented at a recent THCA Texas Health Care Association convention on "Nurses Meeting the Changing Needs of LTC Residents - IV's and PICC lines." Capra received her nursing education from Lamar University, Texas.
Patrick is responsible for the online user experience, system enhancements and Internet security. He has over 29 years' experience in enterprise infrastructure, BPM, data center operations, software and database architecture. He is well versed in the full software lifecycle development, from identifying business needs and designing efficient solutions, to platform development and deployment. He is the author of three books on database design and programming techniques.
Patrick and Capra "never back down from a challenge" and are completely committed to any venture they pursue. They live near Tyler, Texas with their two teenage daughters, three dogs and a cat, on a 13-acre ranch complete with horses, a hay bailing business, small egg farm, vineyard, orchards, and a 4,000 sq. ft. organic garden.
ABOUT PEDAGOGY, INC.
"Pedagogy" (pronounced "ped-uh-goh-jee") is defined as the art and science of teaching, instruction, and training. It is the goal of Pedagogy, Inc. to offer the most current course content of the highest possible quality, utilizing sophisticated online training methodologies. Pedagogy provides courses to employees of health care corporations and individuals seeking convenient training options in order to meet licensure and continuing education requirements. Through Pedagogy's online continuing education and self-directed professional development offerings, health care providers are better prepared to deliver quality care to their patients.
For more information, please contact:
Capra Dalton, RN
CEO
Pedagogy, Inc.
capra.dalton(at)pedagogy-inc(dot)com
Office: (903) 871-2150
Mobile: (903) 504-8712
###