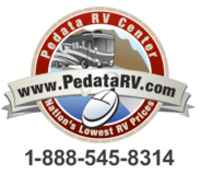 A tough thing happening to dealers right now is their flooring partners are pulling financing completely and demanding payment of the outstanding balance
Phoenix, AZ (Vocus) February 11, 2009
RV dealers across the country who partnered with GE for flooring are bracing for an interest rate increase next month. When GE announced in January they were raising rates as much as 4%, Pedata RV Center's manager Clint Ethington was relieved the news wasn't worse. "At least they are still lending. Other flooring companies simply shut down and left their dealers high and dry."
In November of 2008, word started to spread that GE could suspend floorplan financing to RV dealers. This type of revolving financing enables an RV dealer to maintain inventory. "A tough thing happening to dealers right now is their flooring partners are pulling financing completely and demanding payment of the outstanding balance," says Ethington. "GE is one of the few companies still providing flooring."
Greg Gerber at RV Industry News reported that GE told dealers they would be reviewed on a case-by-case basis and will be subject to a financial review, then face an interest rate increase of nearly 4% starting March 1, 2009.
"It's a double edged sword. RV dealers need GE's flooring to continue doing business so we applaud the fact they haven't left the industry. But rising costs during a time when rv sales are slow makes riding out this economy even tougher," Ethington says.
GE's competitor in the wholesale lending industry, Textron, announced in December of 2008 that they would be exiting all of its commercial finance business. Key Bank announced its exit in September. This leaves GE as the largest source for floorplan financing in the industry.
For More Information:
For more information on Pedata RV Center or current trends in the RV industry contact Clint Ethington, General Manager, at clint (at) pedatarvcenter (dot) com or by phone at: 1-888-545-8314 or 520-807-0900. Or visit Pedata RV Center online at http://www.pedatarv.com .
Contact:
Clint Ethington
Pedata RV Center
http://www.PedataRV.com
1-888-545-8314 or 520-807-0900
clint (at) pedatarvcenter (dot) com
###