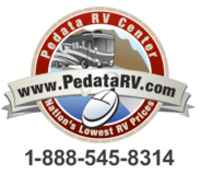 RVing is a tremendously popular lifestyle that will endure despite these tough economic times because it's the most cost-effective way for families to have a great vacation
Phoenix, AZ (Vocus) February 20, 2009
Michigan Association of Recreation Vehicles and Campgrounds (MARVAC), a statewide non-profit organization, just finished two weeks of RV shows and reported that they were impressed by the buyers that attended. The statement suggested that motorhome buyers may be re-energized by the fact that retail financing has now been made available to consumers by local banks and credit unions. Clint Ethington of Pedata RV Center finds the report encouraging, "We are confident that the desire for motorhome travel is not just going to go away. As soon as credit is available again, our customers will come back. Affordable family travel is high on the priority list these days and motorhomes are a great way to go. Saving on the cost and hassles of air fair, hotels and restaurants, especially for families, can be significant," says Ethington.
An international consulting firm, PKF Consulting, found that even with today's fuel prices the "typical RV family vacations are on average 27 to 61 percent less expensive than other types of vacations." The study showed that a typical week-long vacation, depending on the type owned, going by RV cost an average of 65 to 80 percent less than a cruise; 57 to 72 percent less than an all-inclusive air/hotel/meal package; 50 to 66 percent less than a trip involving air travel, rental cars, restaurants and hotels; and 34 to 56 percent less than travel to a condo or rental property by personal car or airline.
"RVing is a tremendously popular lifestyle that will endure despite these tough economic times because it's the most cost-effective way for families to have a great vacation," says Richard Coon of RVIA (Recreation Vehicle Industry Association). "Encouraging retail traffic and the innovation going on within our industry are signs that the long-term outlook remains positive."
For More Information:
For more information on Pedata RV Center or current trends in the RV industry contact Clint Ethington, General Manager, at clint (at) pedatarvcenter (dot) com or by phone at: 1-888-545-8314 or 520-807-0900. Or visit Pedata RV Center online at http://www.pedatarvcenter.com.
Contact:
Clint Ethington
Pedata RV Center
http://www.PedataRV.com
Phone: 1-888-545-8314 or 520-807-0900
Email: clint (at) pedatarvcenter (dot) com
# # #