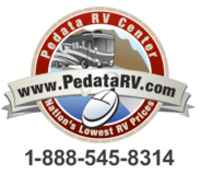 It's a buyers market right now. Our RV inventory is deeply discounted. We have never offered numbers like this
(Vocus) March 4, 2009
Motorhome Sales - RV financing availability is one of the major issues the RV industry has faced in this economic downturn. As banks failed, lending tightened and even qualified buyers weren't receiving loan approval in the past 4-5 months. Entering March 2009, the RV industry is just now starting to see the credit market make a step in a positive direction with help from local banks, finance companies and credit unions.
"It's a buyers market right now. Our RV inventory is deeply discounted. We have never offered numbers like this," says Clint Ethington of Pedata RV Center. "However, presently, we are still finding that credit can be difficult for even qualified customers to obtain. But hopefully that is changing."
If consumers are able to obtain financing, there are more stringent stipulations in place such as the title must be put into the customers name with the new lien before funding is provided. "It delays payment to the dealer, which is tough right now," Ethington says. "We are seeing a different lending climate and it probably will be tougher for some to get a loan in the future. The definition of a qualified buyer has changed."
RVIA (Recreation Vehicle Industry Association), a national trade association representing motorhome manufacturers and component suppliers, has produced a video meant to educate lenders on the RV industry and shows how RV financing can be a stable, profitable line of business. "We applaud RVIA's efforts to educate lenders. The desire to own and vacation in an RV will not go away, when the economy stabilizes, lenders will see an increase in RV loan applications," says Ethington.
For More Information:
For more information on Pedata RV Center or current trends in the RV industry contact Clint Ethington, General Manager, at clint (at) pedatarvcenter (dot) com or by phone at: 1-888-545-8314 or 520-807-0900. Or visit Pedata RV Center online at http://www.pedatarvcenter.com.
Contact:
Clint Ethington
Pedata RV Center
http://www.PedataRV.com
Phone: 1-888-545-8314 or 520-807-0900
Email: clint (at) pedatarvcenter (dot) com
###