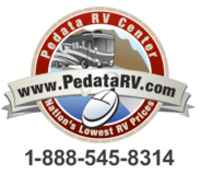 These are findings that you just can't dismiss
Mesa, AZ (Vocus) March 13, 2009
Pedata RV maintains the opinion that if the RV industry can survive the downturn, growth will occur. RVIA, the national trade association representing RV manufacturers and part suppliers, recently published indicators for future growth of the RV industry and the information is promising, if the industry can just hang on.
RVIA reports:

The demand for RVs remains robust.
RV show attendance is surprisingly high and RV rentals are strong.
The struggling economy and low consumer confidence is causing customers to just delay their RV purchases, which means when the economy rights itself there is future sales potential.
Clint Ethington of Pedata RV comments, "The desire to own an RV is there. We are seeing more and more RV shoppers, customers who are just waiting out the economy for no other reason other than the uncertainty of it all. Once it stabilizes, we'll see those sales."
RVIA shows the population and demographic trends favor long-term RV market growth. Buyers aged 35-54 are the largest segment of RV owners and RV sales will benefit as aging baby-boomers continue to enter the age range in which RV ownership is highest. Every day, 11,000 Americans turn 50, according to U.S. Census figures. "These are findings that you just can't dismiss," says Ethington, "The growth potential in our industry is strong. And this should be something that lenders identify. We encourage lenders to watch RVIA's informative video about the RV industry which shows how RV financing is a profitable, stable line of business."
View the RVIA Video.
For More Information:
For more information on Pedata RV Center or current trends in the RV industry contact Clint Ethington, General Manager, at clint (at) pedatarvcenter (dot) com or by phone at: 1-888-545-8314 or 520-807-0900. Or visit Pedata RV Center online at http://www.pedatarvcenter.com.
Contact:
Clint Ethington
Pedata RV Center
http://www.PedataRVCenter.com
Phone: 1-888-545-8314 or 520-807-0900
Email: clint (at) pedatarvcenter (dot) com
# # #