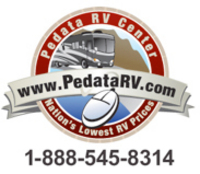 now all we have to do is tap into them.
Mesa, AZ (Vocus) May 9, 2009
Pedata RV explores RV specific web marketing from Facebook to blogging to Twitter.
The fastest growing segment of RV owners fall into the 18-34 age group and advertisers are taking notice. While strategies such as offering eco-friendly options appeal to an informed consumer, talking face to face, or interface to interface has become key in relating and appealing to younger consumers.
GoRving is a prime example of a company reaching out. Their blog offers green tips, on-the-road recipes and more. Blogging allows consumers to find out about topics of interest to them and on-line chat forums and message posting allows interactive discussions and a place where questions can be answered.
'Research into the habits of more than 800 university students found that of the men asked, 55 per cent, were regular (game) players, using their games console at least every other day,' claims a study by Brigham Young University. So when GoRving integrated games into their website, they found a way to entertain their core audience.
Facebook, a social networking forum that allows you to connect and share in groups or individually, gives RV enthusiasts a place to compare campsites, ask questions about new RVs and find out more about the RV experience. Twitter, a way of communicating through posts of 140 characters or less answers the question 'What are you doing?' Twitter participants can follow the updates of other participants. Twitter can be used as a tool for recruiting potential new clients by enticing them with RV Vacation posts.
"With advances in technology, there are so many opportunities available to reach any target market," says Clint Ethington of Pedata RV, "now all we have to do is tap into them."
For More Information:
For more information on Pedata RV Center or current trends in the RV industry contact Clint Ethington, General Manager, at clint (at) pedatarvcenter (dot) com or by phone at: 1-888-545-8314 or 520-807-0900. Or visit Pedata RV Center online at http://www.pedatarvcenter.com.
# # #