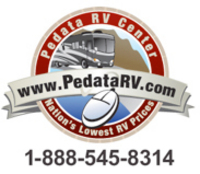 Be aware of the threats of mother nature and don't take any chances.
Mesa, AZ (Vocus) June 15, 2009
With storms raging across the country, RVers need to be prepared to evacuate if necessary. Flash flooding, high winds and mudslides are all potential threats. As storms move through California, Oregon and Idaho RVers should be equipped with safety information. Pedata RV offers safety tips for RVers facing storms in California, Oregon, Idaho and Indiana.
Most importantly, have a first aid kit in the RV. Check the kit and replenish any supplies at least once a year as aspirin and ointments may expire.
Keep a list of important phone numbers in the RV including emergency numbers and the number of a close friend that lives out of area. Make sure each family member has friend's number programmed into their phone in case the family is separated.
Keep copies of important documents stashed away safely. Things such as passport, social security number and other items that may need to be replaced.
If a Severe Weather Warning or Strong Winds are expected within 48 hours make a plan. If leaving the area is an option you may want to consider that for severe storms or flooding. If you live in your RV and strong winds are expected and you cannot leave the area, find a safe sturdy building to wait out the storm. Falling trees, flooding and lighting are all potential hazards.
"Whether your RV is your home or for traveling, personal safety comes first," says Clint Ethington of Pedata RV. "Be aware of the threats of mother nature and don't take any chances."
*Safety Information provided by the American Red Cross.
For More Information:
For more information on Pedata RV Center or current trends in the RV industry contact Clint Ethington, General Manager, at clint (at) pedatarvcenter (dot) com or by phone at: 1-888-545-8314 or 520-807-0900. Or visit Pedata RV Center online at http://www.pedatarvcenter.com.
Contact:
Clint Ethington
Pedata RV Center
http://www.PedataRV.com
Phone: 1-888-545-8314 or 520-807-0900
Email: clint (at) pedatarvcenter (dot) com
# # #