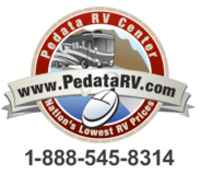 We do see some positive actions, we just hope the effects are felt soon and deliver as hoped.
Mesa, AZ (Vocus) February 13, 2009
Clint Ethington at Pedata RV reports that RV sales are a little sluggish, but they are still selling RVs, citing low prices and good marketing as the key. The face of RV sales, however, is drastically changing. The industry has been hit hard as seen with yet another manufacturer filing for bankruptcy this week. "We do see some positive actions, we just hope the effects are felt soon and deliver as hoped."
Customers express that they are ready to buy, but they are worried about their jobs next month, next quarter, 6 months from now. "Our motorhome sales are holding steady. What is interesting is the shift in demographic. We were selling to baby boomers, now it has shifted to an older clientele. These customers fall into a lower income bracket, but have already made their money and are in a secure retired position with pensions for example."
Yesterday RVIA (Recreational Vehicle Industry Association, Inc), a national trade association representing recreation vehicle manufacturers and their component part suppliers, released a statement covering what programs and legislative/regulator initiatives they are taking on to help improve the economic environment for the RV industry. RVIA's focus was on four main issues: credit availability, small business administration, buyer incentive, and miscellaneous business tax provisions, all of which Ethington thinks are steps in a positive direction. However, he does express concern for what it will do to help RV sales in the short term. "We commend RVIA for their efforts and are extremely happy to see what they are doing and that they are fighting for the RV industry. I'm afraid there is a much bigger issue causing problems in RV sales currently. If the consumer is unsure that in two months or 6 months, they will have a job, they aren't going to spend the money on an RV now. You can give them incentives and breaks on loans and taxes, but will they make the purchase? Until our customers feel comfortable in the job market again, we won't see RV sales improve."
For More Information:
For more information on Pedata RV Center or current trends in the RV industry contact Clint Ethington, General Manager, at clint (at) pedatarvcenter (dot) com or by phone at: 1-888-545-8314 or 520-807-0900. Or visit Pedata RV Center online at http://www.pedatarvcenter.com.
# # #