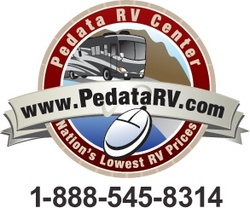 Our sales floor and phones stayed busy consistently the last 9 months
Phoenix, AZ (Vocus) October 10, 2009
RV wholesale shipments jumped 16% in August from July to a seasonally adjusted annual rate of 209,800, reports the Recreation Vehicle Industry Association. August marks a 135% surge from January leading some to believe the worst of the recession may be over.
Average costs for an RV range from $50,000 - $300,000 and "…sales of motor homes and travel trailers are seen by some economists as a leading indicator of the economy's health, because they're among the largest discretionary purchases a consumer can make," says USA Today's article On the Road Again: RV Sales See an Upswing.
Pedata RV Center has been confident about an economic turnaround. "Our sales floor and phones stayed busy consistently the last 9 months," says Gerard Pedata, owner of Pedata RV Center. "In fact, we have seen more traffic this year than ever. They aren't all necessarily buyers, but there are shoppers. This just shows that the RV consumer is still there and we are seeing evidence of stability slowly returning in the economy and our buyers are too."
For more information on Pedata RV Center, or current trends in the RV industry contact Gerard Pedata, sales (at) pedatarvcenter (dot) com or by phone at: 1-888-545-8314 or 520-807-0900. Or visit Pedata RV Center online at http://www.pedatarvcenter.com.
Contact:
Gerard Pedata
Pedata RV Center
http://www.PedataRVCenter.com
Phone: 1-888-545-8314 or 520-807-0900
# # #