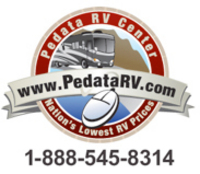 Phoenix, AZ (Vocus) January 13, 2009
Textron announced its exit from commercial finance in late December 2008. A large portion of the dealers in the recreational industry were dependent upon Textron for their commercial RV financing; to get vehicles on their showroom floor and provide consumers with available inventory. Textron's exit could be a turning point for many as they lose the wholesale floor financing that supports their business.
Clint Ethington of Pedata RV Center comments, "Pedata RV feels this could devastate the RV industry. Textron supplies wholesale floor financing to quite a few motor home dealers. Pedata RV remains strong with Wholesale Flooring financing through Partner GE. Things are definitely tighter but we are plugging along to make it in an ever-changing weak economy."
Pedata RV Center seems to have felt the effect of the weaker economy a bit less than many dealers across the country as their main impetus is to provide consumers with the best the RV world has to offer at a lower cost. Their inventory is offered directly to the consumer skipping the middle man's markup. So in a world where everyone is suddenly looking to get the very best deal they can get for the money they have to spend…Pedata is an obvious option.
Textron believes that the move was necessary due to continued weakening economic conditions. In addition to exiting the commercial financing industry, Textron will also be cutting 2,200 jobs worldwide and expanding on their restricting plan in order to save an estimated $100 million in 2009.
For More Information:
For more information on Pedata RV Center or current trends in the RV industry contact Clint Ethington, General Manager, at clint (at) pedatarvcenter (dot) com or by phone at: 1-888-545-8314 or 520-807-0900. Or visit Pedata RV Center online at http://www.pedatarv.com.
###