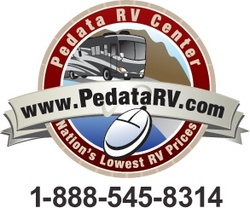 Fall is a great time to travel
Phoenix, AZ (Vocus) October 22, 2009
RV travelers save up to 61% of vacation costs over other forms of travel, according to GoRVing.com. Combine that with the continued savings each time an RV hits the road, the convenience and luxury of having a home away from home and RVing becomes a no brainer. Autumn is the perfect time to hit the road whether for a weekend getaway or month long escape to follow fall foliage.
Studies prove vacationing reduces stress, revitalizes creativity and inspires family bonding. So jump in the RV and hit the road to explore any one of the following vacation suggestions suggested by Pedata RV Center:

Fall Foliage - Leaves are starting to turn, igniting the landscape with yellows, oranges and reds. Kate Hamman, author of Six Unlikely Fall Foliage Destinations recommends The Ozark Mountain Region in Missouri and Arkansas as a getaway from crowded cities. Great Smoky Mountains in Tennessee, Lane County Oregon and Durango, Colorado all hit her list. For the National Forest Service's Fall Color Hotline, call 800-354-4595.
History - Follow the path of famous explorers like Lewis and Clark, starting at the Lewis and Clark Discovery Center in Idaho. Allow a day to visit the Nez Perce National Historic Park, The Clearwater and Lochsa Rivers and more: http://www.byways.org/explore/byways/2043/itinerary/60140. Or follow the John Muir Trail in Yosemite National Park or the Roosevelt Trail in Sheridan Wyoming.
Beaches - Washington's Olympic Coastal Strip has been rated at the one of the US' best beach hikes. Other beaches not to miss are the Emerald Coast RV Beach Resort in Florida's Emerald Coast and Malibu Beach in California.
"Fall is a great time to travel," says Gerard Pedata of Pedata RV Center. With most of the summer tourists gone, the wilderness feels wild again. In an RV, there's somewhere to go for everyone."
For more information on Pedata RV Center, or current trends in the RV industry contact Gerard Pedata, sales(at)pedatarvcenter.com or by phone at: 1-888-545-8314 or 520-807-0900. Or visit Pedata RV Center online at http://www.pedatarvcenter.com.
Contact: Gerard Pedata
Company: Pedata RV Center
http://www.PedataRVCenter.com
Phone: 1-888-545-8314 or 520-807-0900
Email: sales (at) pedatarvcenter.com
###