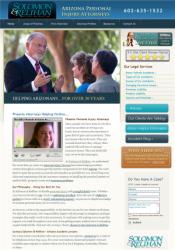 Phoenix, AZ (Vocus/PRWEB) November 22, 2010
According to The Arizona Daily Wildcat, the Tucson Police Department received a $44,000 grant from the Governor's Office of Highway Safety to help http prevent pedestrian and bicycle accidents. With the grant money, undercover officers have been targeting motorists who drive too close to sidewalks and bike lanes, and bicyclists and pedestrians who jaywalk or do not use bike lanes. The officers have issued 789 citations since the special enforcement started on August 10.
The Phoenix-based law firm of Solomon & Relihan applauds the Tucson police department and the Governor's Office for being proactive on this issue. "In our more than 35 of working with accident victims, we have seen hundreds of pedestrians and bicyclists who have been struck by cars and suffered severe injuries and even death," said a company spokesperson. "We hope more police departments around the state follow Tucson's lead."
When pedestrian accidents occur it can be very traumatizing for the parties involved. According the National Safety Council, 5,900 pedestrians are killed every year and 85,000 pedestrians suffer from non- fatal injuries.
Even with the increased enforcement, the best protection for pedestrians is to be educated about the dangers of car-pedestrian accidents and take the proper precautions. There are many reasons why pedestrian accidents happen frequently, including:

The motorist thinks that they have the right of way if the pedestrian is not crossing at the designated crossing spot.
The motorist is unfamiliar with the pedestrian laws.
The motorist is in a rush to get to their destination and does not see the pedestrian.
The driver is driving distracted, such as using a cell phone or texting while driving.
In the unfortunate event that you are hit by a car while walking or on a bicycle, there are several steps you should take to protect yourself:

Record the names, addresses, insurance information and license plate number of all the vehicles involved, and make sure to record the information of the witness contacts.
Do not speak with any insurance company or sign any documents regarding the accident until you have talked about your options with an Arizona personal injury attorney.
Document the scene of the accident and injury as soon as possible.
Seek immediate medical attention for all injuries.
Despite the success of increased bicycle and pedestrian accident enforcement in Tucson, the program is scheduled to end soon unless the Governor's Office allocates more funding for it. However, other police departments have put together similar proposals and hopefully the special enforcement will spread to other cities around the state.
###