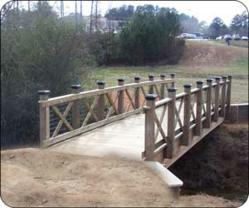 The timber bridge provides a warm and welcoming feel as pedestrians walk to and from the dormitory and sporting events. It helps to provide a grand-entrance to the sports complex.
Lutz, Florida (PRWEB) March 08, 2012
York Bridge Concepts, Inc (YBC) has recently completed Reinhardt University's single-span pedestrian bridge in Waleska, Georgia. Founded in 1883, Reinhardt was grounded in the liberal arts. The University is located 45 minutes Northwest of Atlanta, offers 46 majors and features an impressive Police Academy.
YBC was chosen to become a part of this project because, according to Project Manager, Matt Smith, "YBC has previous experience with Brasfield & Gorrie General Contractors and has established a reputable relationship with us." Timber was chosen for this pedestrian bridge because of aesthetics. Mr. Smith additionally stated, "the timber bridge provides a warm and welcoming feel as pedestrians walk to and from the dormitory and sporting events. It helps to provide a grand-entrance to the sports complex."
York Bridge Concepts relied upon their years of timber bridge design and construction experience when designing this bridge. YBC was cognizant of the client's budgetary concerns in the design and construction of the bridge and ensured that their client's concerns were addressed without sacrificing quality of the bridge or the custom design for which York Bridge Concepts is known. Built on-site from sawn timber to finished product with minimal environmental impact, this bridge is one-of-a-kind and is like no other in the nation.
This 35-foot long York pedestrian bridge can be found crossing the Moore Creek, connecting the sidewalk to the new James and Sis Brown Athletic Center — a haven for student-athletes that features a 4800 square foot weight room, locker room, coaches offices, training rooms, meeting rooms and an outdoor plaza.
Even though Reinhardt's pedestrian bridge was constructed in less than a week, YBC's crew faced some challenges involving power lines. The bridge site was located directly under a live line, powering the neighboring athletic fields. "Through careful and thorough communication between the University and bridge team, the power was cut off and the bridge was constructed so quickly that the University didn't have any issues with a temporary loss of power," stated Mr. Smith. YBC's bridge site was also in close proximity to the current walkway and active baseball/softball fields, but "no pedestrians or players were inconvenienced in any way. Some players were actually pleased to see a new, more convenient bridge being installed," Mr. Smith concluded.
Follow YBC's Bridge projects on Facebook at http://www.facebook.com/yorkbridgeconcepts
About York Bridge Concepts
York Bridge Concepts, Inc. (YBC) is the nation's largest on-site timber vehicular bridge builder. YBC works with industry-leading owners and developers on prestigious projects throughout the U.S. and Internationally, creating more than just a solution for crossing lakes, streams, creeks, wetlands or ravines. In this competitive real estate market, developers who want to ensure that their project stands apart from the competition use York Bridges to add value and create a feeling of exclusivity, warmth, and quality for their customers. Based in Lutz, Florida, with 28 years of experience, YBC has become well-known for their expertise and cutting-edge innovation in timber bridge design and on-site construction.
YBC's Pedestrian Bridges
York Bridge Concepts has been selected for many prestigious projects such as the Discovery Park Museum, the Disney Institute and the University of Texas. YBC's endless designs can give each client their very own unique bridge that they can truly call their own while utilizing a wide range of high-grade materials. YBC's expert teams of installers are known for their on-site craftsmanship, building each pedestrian bridge one board at a time. A York pedestrian bridge is an asset to any project and will last for generations.
For more information, please visit YBC's website at http://www.ybc.com.