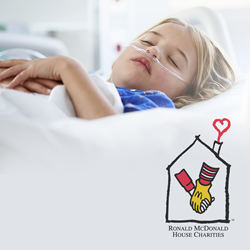 Our community deeply understands the importance of family, which is precisely why it's necessary for us to support the Ronald McDonald House mission of keeping families together in times of crisis
Chesapeake, OH (PRWEB) July 15, 2016
Riverside Insurance Resources, a full service insurance and financial planning firm headquartered in Lawrence County, Ohio, is teaming up with the local chapter of the Ronald McDonald House family of charities in a fund raising drive to benefit the parents of children seeking medical treatment in nearby hospitals.
The Ronald McDonald House organization maintains a wide network of "home away from home" facilities that give parents a place to rest and refresh so they can remain close to a child receiving life-saving medical treatment. Statistics from RMH show that children who are able to remain close to parents when receiving critical care are more likely to respond positively to treatment and heal faster.
"Our community deeply understands the importance of family, which is precisely why it's necessary for us to support the Ronald McDonald House mission of keeping families together in times of crisis," says Hollie Henry, founder and director of Riverside Insurance Resources.
Henry are her team are organizing an online publicity campaign to share information about the Ronald McDonald House charity event over social media and email with families and business owners in the southern Ohio region. As well, Riverside Insurance Resources is publishing a full page article discussing the charity event in the upcoming issue of "Our Hometown," the firm's online local interest magazine: http://www.riversideinsuranceresources.com/Our-Hometown-Magazine_39.
Several months ago, Riverside Insurance Resources joined the ranks of the "Agents of Change" movement. As part of this ongoing charitable involvement campaign, the Riverside Insurance team will be selecting and working with a new Ohio-based charity or non-profit every 60 days.
For those who wish to join Henry and the Riverside Insurance team for the Ronald McDonald House charity event, the following page is available for anyone to make a personal contribution to the cause: http://www.riversideinsuranceresources.com/A-Strong-Child-Needs-the-Familys-Support_13_community_cause. For those interested in tracking the involvement of Riverside Insurance with new charities and non-profits over time, the Riverside Community Causes list can be bookmarked here: http://www.riversideinsuranceresources.com/community-cause.
About Riverside Insurance Resources
As a Personal Finance Representative in Ohio, agency manager Hollie Henry knows many local families. Her knowledge and understanding of the people in her community ensures that clients receive an outstanding level of service. Hollie and her team look forward to helping families protect the things that are important - family, home, car and more. They can also help clients prepare a strategy to achieve their financial goals. To contact an expert at the Riverside Insurance Resources, visit http://www.riversideinsuranceresources.com/ or call (740) 867-8517.