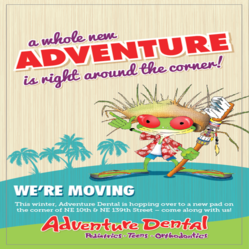 Your kids will be excited to take an island adventure with our friendly Tour Guides.
Vancouver WA (PRWEB) June 25, 2013
Adventure Dental, the leading pediatric dental and orthodontics practice in Vancouver WA, will be opening a new expanded office late in 2013. The new building under construction is three times larger allowing them to serve more children and families across all of Clark County WA. The new office will be located near the Salmon Creek Fred Meyer and Three Creeks Library at 900 NE 139th St., Suite 106, Vancouver, WA 98685. All plans have been approved and construction is currently underway.
Pediatric dentists serve a very diverse audience encompassing toddlers, school age children and teens. This diversity creates some unique challenges. The decor that appeals to the young children, turns off the teenagers. And while adult-sized dental tools work for most teens, they are too big for the kids. To create a thriving pediatric dental practice across all these age groups really requires having separate spaces, and separate spaces requires more square footage and cleverly-conceived floor plans.
The new Adventure Dental office will feature a separate teen bay with music and atmosphere that appeals to teenagers. This will be separate from the bay serving younger children which will maintain the nautical adventure theme that kids and parents associate with Adventure Dental. In addition to the teen and kids bays, the larger space will also include a sensory room designed to serve children with special needs or children that are particularly anxious about dental care.
When the new office opens, Adventure Dental will also be expanding their orthodontics practice. The larger space will allow them to see more orthodontics patients of all ages including adults.
Adventure Dental will be updating families about the exact move dates and Grand Opening on the Adventure Dental Facebook Fan page and via email.
About Adventure Dental
Adventure Dental provides pediatric dentistry and orthodontics, including emergency services, to Vancouver WA, Ridgefield, Battle Ground, Camas and surrounding areas. Adventure Dental's pediatric orthodontists and dentists specialize in a fear free environment where children are not afraid to go to the dentist.
Our Dentists
Dr. David Neil spent three years serving as a dentist in the US Navy, mostly on a ship off the coast of Italy. He did this after earning a Bachelor degree from BYU, his DDS at Northwestern University in Chicago, an AEGD program within the US Navy and completing a residency at UCLA, where he earned specialty certificates in both pediatric dentistry and orthodontics. Dr. Neil is an active member of the AAPD, AAO, ADA, WSDA, and Clark County Dental Society.
Dr. Todd Hillyard brings his energy for life to his work. He earned his DDS from University of Texas San Antonio with Magna cum Laude honors, completed a specialty residency in Pediatric Dentistry at UCLA, and is Board Certified. Dr. Todd is an active member of the local, state and national dental societies. He has a special place in his heart for kids with special needs.