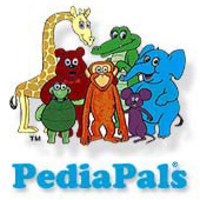 Our goal was to address the main concerns of pediatric healthcare facilities and their vendors: time, money, efficiency, and safety
Minneapolis, MN (PRWEB) August 11, 2009
PediaPals offers pediatric medical equipment and products online via Target.com giving physicians and health professionals easier access to child friendly pediatric exam tables, medical equipment, and retractable badge holders.
Major medical centers, including St. Jude Children's Research Hospital, Children's National Medical Center, and Shriners Hospitals for Children are already using the animal-shaped pediatric medical equipment, matching décor and retractable badge holders, and seeing extraordinary results.
Now, PediaPals' pediatric exam tables, retractamals, and medical equipment will be widely available to healthcare professionals through Target.com. A full range of animal-themed medial products including pediatric exam tables, blood pressure kits, reflex hammers, retractable badge holders, and wall decals are available.
"The PediaPals' experience gives children a friendly distraction so they are more relaxed and cooperative. That enables physicians to give more efficient, complete exams," says Jack Priest, M.D., research director and retired director of Oncology/Hematology, Children's Hospital, St. Paul, Minnesota.
Clinics and hospitals using PediaPals pediatric exam tables and medical equipment can expect to see improved productivity and efficiency. Children are more comfortable, allowing pediatricians to perform their exams more efficiently and with less stress for the child.
The sterile exam rooms that most children find downright scary may soon be obsolete. Instead, during the next visit to the pediatrician, a child may be asked to hop onto an exam table shaped like a big, smiling blue hippo or squeeze a bear-shaped blood pressure bulb to get a "hug." They might even giggle when the doctor asks if an elephant (in reality an otoscope attachment) can whisper in their ear, or if a giraffe (reflex hammer) can kiss their knee.
"Our goal was to address the main concerns of pediatric healthcare facilities and their vendors: time, money, efficiency, and safety," said Jon Powell, President of PediaPals.
About PediaPals
PediaPals, celebrating its 10 year anniversary, designs, manufacturers and markets pediatric medical equipment and supplies designed to reduce stress for children and parents while at the doctor's office and improve productivity and efficiency for pediatricians. Their animal-shaped products have been helping children feel more comfortable since 1999.
To learn more about PediaPals products and services, call 1-800-733-4272 or visit http://www.pediapals.com. An upcoming Radiospectives interview with PediaPals will be available at http://www.radiospectives.com beginning August 12, 2009.
# # #