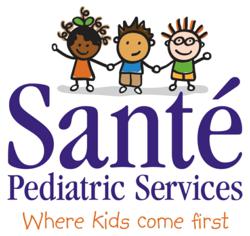 "When we announced the opportunity to commemorate the day with fun-filled activities to generate awareness and raise money for Autism Speaks, everyone was very excited for the chance to participate."
Dallas, TX (PRWEB) April 12, 2012
Santé Pediatric Services, one of the largest independent pediatric therapy providers in Texas, encouraged its employees statewide to participate in raising funds for the nonprofit organization, Autism Speaks in recognition of World Autism Awareness Day. The Santé team was given the opportunity to wear jeans to work on Monday, April 2, 2012, in exchange for a $5 donation to the charity. Santé Pediatrics, in turn, matched the final donation amount to make their corporate contribution to Autism Speaks.
World Autism Awareness Day is one of three annual international awareness days that has been designated by the United Nations. To recognize the day, cities around the world are encouraged to participate in the "Light It Up Blue" event, by turning on blue lights in and around popular buildings and landmarks on the night of April 2.
Santé Pediatrics, which offers pediatric speech, occupational and physical therapy in cities across the state of Texas, took special interest in the event as they treat many children who have the diagnosis.
"Our therapists, staff and leadership have a special interest in this day because we work with so many children and families who are affected by the diagnosis (of Autism)" said Aimee Kilgore, Vice President of Sales and Marketing, Santé. "When we announced the opportunity to commemorate the day with fun-filled activities to generate awareness and raise money for Autism Speaks, everyone was very excited for the chance to participate."
Santé customizes treatment plans for children, adolescents and young adults' ages 0 – 21 with special needs. These needs may include, but are not limited to developmental, cognitive, physical, speech, or motor delays. Licensed therapists work with the parents, caregivers, and educators as well as the child to ensure that treatments are effective and consistent throughout the child's daily routine.
For more information, call Santé Pediatric Services at 1-972-309-8900.
About Santé Pediatric Services
Santé Pediatric Services offers pediatric speech, occupational and physical therapies in several communities throughout Texas, including Dallas/Fort Worth, East Texas/Tyler, Austin, San Antonio, and El Paso.
Visit Santé at http://www.santepediatrics.com or read their blog at blog.santepediatrics.com for more information.