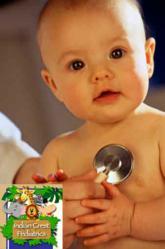 It's time to get your flu shot!
Westminster, Colorado (PRWEB) January 22, 2013
The Pediatrician Westminster and the rest of northern Colorado turns to in order to keep their kids happy and healthy during the winter season is amping up their efforts to get your kids a flu shot. Whether you have a family of five with kids already in school or are expecting your first little one that's on the way, getting a flu shot is extremely beneficial to a family's health and well-being.
"If you or your child gets the flu, it's not just a day or two of being sick. Usually someone exhibits symptoms for 7 to 10 days and needs to be taken care of by another family member," said Dr. John Barbe, Westminster pediatrician.
The spread of influenza, which is really prevalent in schools where kids are in constant contact with each other, is rapid because the incubation period is typically only 2 days and the flu is extremely contagious. The best method of prevention for the flu is still getting your yearly flu shot, which any pediatrician in Westminster will tell you is essential in keeping your family healthy.
"Kids are very good at sharing their germs with others, especially their parents," said Dr. Sona Shah, pediatrician in Westminster.
Pregnant women are especially at risk, with the chances of serious complications developing from influenza especially high with expecting mothers. And what better germ-carriers are there than the young ones already susceptible to illness who are running around the house? Getting that flu shot is something patients of Indian Crest Pediatrics in Westminster agree is still a great method of prevention.
"I got flu shots not just for my kids and myself, but for my mother as well. The care that Indian Crest showed my family and I was wonderful and I feel much more comfortable now knowing we don't have to worry about getting sick this winter," stated Carol M., pediatrics Westminster patient
The financial savings of not having to worry about missing work with the flu, whether having it yourself or staying at home with your kids, is another huge benefit of getting your flu shot taken care of.
Getting a yearly flu shot is highly recommended for any children over the age of 6 months. The flu isn't your basic 24-48 hour cold; it usually starts as an upper respiratory infection with an onset of symptoms that includes fever, head and body aches, cough and sinus congestion that can last up to 10 days. Influenza still kills more people per year than all other immunized diseases combined. Infants under the age of 2, adults 65 and over and pregnant women are especially at risk, so please don't take your vaccinations lightly. Get your family immunized against the flu. Indian Crest pediatricians in Westminster are ready to help you and your family today.
Dr. Knott understands that as a Westminster pediatrician how important getting your flu shot is to preserving your peace of mind and keeping everyone in your family healthy and happy. He and the rest of the Indian Crest Westminster pediatrics staff wishes you and yours a great 2013 and reminds everyone to spread the word about getting your vaccinations before the bug spreads to you.
About Indian Crest Pediatrics
Indian Crest Pediatrics is a Westminster Pediatrics medical office run by Doctors John Barbe MD, Peter Knott MD, and Sona Shah MD. They serve Westminster, Broomfield, Arvada and the surrounding areas and see children from newborn thru age 21 years. They offer numerous pediatric services including newborn care, well baby visits, physical exams, sick visits, minor emergency care including lacerations and some fractures, ADD and ADHD visits. Indian Crest Pediatrics also offers a free Prenatal visit for new mom's and dad's to meet the physician and see the office.
Indian Crest Pediatrics
9035 Wadsworth Pkwy Ste 3000
Westminster CO 80021
(303) 422-7677