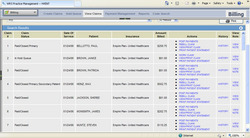 Martin Children's Clinic really represents leading edge care in pediatrics. The patient portal will open new lines of communication with their patients. The ability for them to track growth charts online is a great feature that will help them track their patient's progress. We look forward to a long relationship with Martin Children's Clinic
Goshen, N.Y. (Vocus) April 20, 2010
Waiting Room Solutions®, a leading web-based EHR and PMS provider, announced today that Martin Children's Clinic, Martin, Tennessee, has chosen Waiting Room Solutions' Pediatrics Electronic Health Record (EHR) and Practice Management System (PMS) to improve quality and efficiency in their pediatric patient care services.
Martin Children's Clinic is a new clinic that provides pediatric health care services to children, including well, sick, young female visits and mental health management. The clinic sees about 20 to 30 patients per day. During its startup stage, the clinic used the conventional paper patient charts to keep track of its patients' records, and worked with an external billing company to handle its revenue management. Martin Children's Clinic had been seeking a specialty specific pediatrics Electronic Health Record (EHR) solution system. An electronic medical record consultation service highly recommended Waiting Room Solutions' Web-based Pediatrics EHR and PMS solutions.
Waiting Room Solutions' Pediatrics EHR software recognizes the intricacies of pediatric health care and offers the very best pediatric-specific functionality. The technology behind Waiting Room Solutions' pediatric EHR software integrates a high-performance system, which is customized to meet the specific needs of the pediatric specialty. Waiting Room Solutions pediatric EHR software features custom templates and pediatric specific content, such as Practice Management, Patient Health Record, Workflow Management, Electronic Charting, Lab Imaging, and E-prescribing. Waiting Room Solutions Web-based Pediatrics PMS software also incorporates a medical billing management software customized for pediatricians (see picture).
Upon adaptation of Waiting Room Solutions Pediatric EHR system, Martin Children's Clinic will leverage the cutting edge technologies behind the system to streamline its workflow management, patient follow-up, insurance eligibility checking and in-house communication. The system will provide easy access to patient information, allowing providers to chart from any location. Integration of Waiting Room Solutions Pediatrics EHR and PMS will also enable Martin Children's Clinic to meet their goal of becoming a paperless office.
" I chose Waiting Room Solution to assist with practice management for a new clinic. My goal is to begin paperless; making transitioning later easier. I am very excited at the Cpt ICD-9 recommendations portion of the program. This should be a great asset for billing. Our front desk has easily learned to navigate the patient management portion. Every day the program becomes easier to use" said Sharon Page, owner of Martin Children's Clinic.
"Martin Children's Clinic really represents leading edge care in pediatrics. The patient portal will open new lines of communication with their patients. The ability for them to track growth charts online is a great feature that will help them track their patient's progress. We look forward to a long relationship with Martin Children's Clinic" said Dr. Lawrence Gordon, the founder and CEO of Waiting Room Solutions.
The Waiting Room Solutions' web-based Pediatrics EHR and Practice Management System demo is available for free preview.
About Waiting Room Solutions
Waiting Room Solutions is a leading web-based provider of fully integrated EHR and Practice Management software solutions for the Pediatrics Specialty. WRS seamlessly integrates all of the clinical and business functions required for healthcare providers, including: Electronic Health Records, Revenue Cycle Management, Personal Health Records, electronic prescribing (ERx), scheduling, website creation and content management, messaging, fax, order tracking, and billing -- all at an affordable price. Waiting Room Solutions Practice Management System, Version 3, is a CCHIT Certified® 2006 Ambulatory EHR. It has been designed and built by successful medical professionals, who leveraged their expertise to help other healthcare providers with similar issues. Waiting Room Solutions continues to be recognized for its cutting edge technology.
More information on Waiting Room Solutions can be found at our home page or by calling 1-866-WRS-4EMR.
Inquiries can be sent to:
Waiting Room Solutions
866-977-4367
###