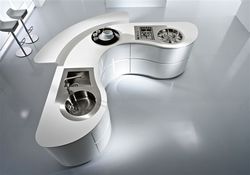 Pedini is known for its range and quality of materials which offer highly personal choices and allow for greater creativity in the design
Paramus, NJ (Vocus) March 2, 2010
A unique program without handles, DUNE is defined by asymmetrically curved base units echoing flowing forms found in nature. Opening is achieved by a groove on the edge of the extra thick 23mm front panel (base units) or by a vertical aluminum profile (tall units). Drawers in the curved units allow Pedini to offer this remarkable design without compromising ergonomics or functionality.
Dune is available in natural or stained eco walnut as well as matte, high gloss and textured lacquer in any color. Aluminum profiles and plinths are available in white, gray, black or matte silver. Complementary glass fronts available with walnut frame and 6 colors of mirror glass.
Pedini uses only 100% post consumption, recycled wood and eco friendly materials. The product has the absolute lowest amount of formaldehyde in the industry.
In addition to a worldwide distribution network, Pedini can be purchased in these North American showrooms:
Pedini of Los Angeles, Pedini of Seattle, Pedini of Atlanta, Pedini DC, Pedini of Denver, Pedini of Dallas, Pedini of Austin, Pedini of Miami, Pedini of Pittsburgh, Pedini of Madison (NJ), Pedini of Puerto Rico, Pedini of Chicago. Also, showrooms in: Naples (FL), Sarasota (FL), Kansas City (MO), Paramus (NJ), Clark (NJ), Brooklyn (NY), Roslyn (NY), Woodland Hills (CA), San Diego (CA), San Francisco (CA), Mountain View (CA), Newton (MA), Charlotte (NC), Portland (OR), Birmingham (AL), Calgary (ALB)
PEDINI BRAND PROFILE
Philosophy
Pedini Italian kitchen designers tailor each kitchen to the given brief considering the space, lifestyle and style of the customer. The company considers esthetics and functionality of equal importance and approaches both with the same level of innovation. As a result each kitchen is a highly personalized with unique characteristics and encapsulating all of the different functions of the kitchen: living, eating, cooking, relaxing and entertaining.
"Pedini is known for its range and quality of materials which offer highly personal choices and allow for greater creativity in the design". The company is committed to research and development to stay ahead of trends, bringing new finishes and concepts to the portfolio each year. The design team aim to create the best possible design solutions mixing superlative functionality and design with top-spec materials for the ultimate statement in fashion and style.
Pedini kitchens aim to find balance between the practical and esthetic, combining the social and functional aspect of the kitchen harmoniously together.
Why choose Pedini?
Pedini prides itself on its highly-tailored design process, superb manufacturing process, customer service and client aftercare. These services take the stress out of selling and marketing high end kitchens and insure that every kitchen is designed and built to meet the specific needs of the most discriminating customers.
Unique factors:

Pedini is a trend setter in the industry – the designs are always unique and fresh and are sure to become a classic and to get copied by many other producers.
Flexibility: Different ranges can be combined to create an utterly unique kitchen. If the client requires a unit outside of the standard modular elements the company will offer a 'made to fit' service.
Pedini offers bespoke (custom) color service – clients are asked to provide a sample of the required color and lacquering can be precisely matched to the sample.
Eco-credentials: Pedini uses 100% post consumption, recycled wood and eco friendly materials. The product has the absolute lowest amount of formaldehyde in the industry.
Aftercare: Pedini provides manuals and cleaning kits for clients to ensure the kitchen is maintained throughout its lifespan and any specialist materials are looked after properly.
7 year guarantee as standard.
Ergonomics are priority for Pedini designers, sliding tables, suspended base units and other integrated features ensure that Pedini products meet the demands of a modern kitchen.
Product lines
Pedini's current portfolio includes five core collections: Dune, Artika, Integra, Outline and Q2. In the spring of 2010, Pedini will be introducing a sixth collection. The company is well-documented for its signature 'curved' style and produces one of the few designs in the world with curved, convex and concave lines.
Dune: With new curve radius and new cabinet height, the introduction of Curve in 2008 was another trend setter that is already being copied by competitors.
Artika: A fresh take on 60's design, the curved Artika was developed using a new manufacturing technique. The Artika key design element is the circular central island.
Integra: This range bring different elements together using the best design, technology and innovation. There are three main variants including Integra, Integra Circle and Integra Profile.
Outline: Launched in 2007 this range is characterized by elegance and minimalism. This product is designed for open plan living, creating its own boundaries and zones while retaining the freedom of large open spaces.
Q2: This luxurious range takes inspiration from fashion design, illustrated by patterned woods and colored glass elements.
Smart: The Smart kitchen is our newest model – Coming in Spring of 2010. It is an economical version of the above models, available faster and perfect for multi unit projects.
Notes to dealers

All products are made to order in Italy.
Further outlets around the world include United Kingdom, France, Russia, Greece, Switzerland, Belgium, Germany, Luxembourg, Holland, Spain, Turkey, Ukraine, Australia, India, Dubai and obviously Italy.
The Pedini factory is in Fano, near Bologna, on the coast of the Adriatic Sea.
The company was founded by Ennio Pedini in 1956.
Strong branding – consumers and trade alike are familiar with Pedini and are interested in it for all of the above factors.
Pedini 800.404.0004
http://www.pediniusa.com
info(at)pediniusa(dot)com
###