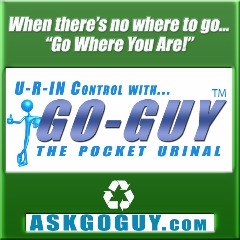 When there is no where to go, go where you are with Go Guy the pocket urinal
(PRWEB) November 30, 2011
Marketed with the motto "when there's nowhere to go, go where you are," Go Guy is a remarkably tiny pocket urinal that uses polymer crystals to quickly solidify urine and prevent leakage. Each Go Guy kit includes a small wet wipe for quick clean up, and a bag with a tough zip-lock top. Once filled, users simply throw their Go Guy in the trash and they're all set.
Initially designed to help men suffering from incontinence or uncontrollable urges brought upon by age, bladder cancer, post-surgery effects, or other health issues, Go Guy is also being used by truck drivers, pilots, kids on long trips, police officers on stakeouts, and even protesters who are discovering that making a pit stop in the middle of a demonstration is much easier said than done.
"I'll be the first to admit that Go Guy is the kind of product that, at first, takes most people by surprise," commented Ron L. Wierks, a partner of U-R-IN Control, the maker of Go Guy. "But when you consider how versatile and practical it is, you start to see why this is a must-have product for men and boys who struggle with uncontrollable urges to urinate, or just need a clean, convenient and confidential place to answer nature's call. After going through many surgeries myself, I know how it feels to have a limited capacity to tolerate the urge to urinate. Go Guy was created as a compassionate and simple solution for a very important and surprisingly common problem."
Go Guy, the pocket urinal that allows men and boys to "go where they are when there's nowhere to go" is available for the affordable price of $1.49 each at http://www.GoGuy.com. More information, including testimonials from urologists and satisfied customers, is also available on the website.
For more information or media inquiries, contact Ron Wierks at askgoguy(at)gmail(dot)com or (800) 313-0991.
About U-R-IN Control
U-R-IN Control is based in Rhode Island, and is dedicated to creating products that help individuals conveniently and confidently deal with bladder control problems. The company is also in the process of developing a female-version of its popular Go Guy pocket urinal product. For more information visit http://askgoguy.com.
###