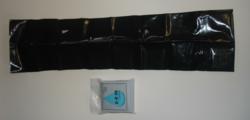 When there is no where to go, go where you are with Go Guy the pocket urinal
Pawtucket, RI (PRWEB) May 02, 2012
Scottsdal, AZ, Rhode Island and New York City all have found a partner in Go Guy the pocket urinal to help curb the public urinating (peeing) problem. U-R-IN Contol has developed a small compact bag for emergency issues.
Scottsdale mayor Jim Lane wants crackdown on public urination. Patrons of downtown Scottsdale's entertainment district could face a $300-plus fine and the cost of cleanup if they are caught relieving themselves outdoors instead of waiting to find a restroom. The City Council has agreed to consider, at Mayor Jim Lane's request, an amendment to the city ordinance that prohibits public urination and defecation. The change would establish a $150 mandatory minimum fine for the offense. Once state surcharges are added, the fine increases to about $320. In addition, the court may require that a person convicted of the Class 1 misdemeanor pay restitution for any cleanup costs incurred by the city.
National Grid in Rhode Island is supplying its drivers with Go Guy so they will not have to urinate in public. They find it is sometimes hard to find a place to go when in the field. It is a test program that may be going national if it is successful.
According to the Cornell Daily Sun Cornell University sees stronger stream of public urination violations according to Cornell Police Chief Kathy Zoner. Zoner said that any student caught urinating in public could be charged with "exposure of a person," under 245.01 of New York state penal law. However, according to Zoner, judicial sanctions are not charges in the municipal court system and will not show up as arrests on a background check.
Go Guy helps eliminate the clean up issues. The idea is to whip, zip and clip and dispose of in the closet trash can. The U-R-IN Control pocket urinal(pee bag) helps you lead a normal life full of activities, knowing that if the urgency arises you can relieve yourself at a moment's notice. The U-R-IN Control bag can be carried in your pocket, wallet, and glove compartment. The pee bag is specially designed with 700ml capacity for worry free relief. It has a water tight top seal, space age polymer crystals for quick absorption to eliminate spills and odors, and can be used for emergency bladder relief when a restroom is not around.