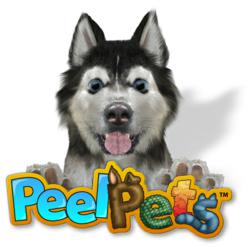 PeelPets™ Help Real Pets
Elk Grove Village, IL (PRWEB) May 09, 2011
PeelPets™ is excited to announce the public launch today of an innovative and fun way for animal lovers to show their support of animal welfare and to help raise money for pet charities. PeelPets™ are peel & stick photorealistic decals of animals that are safe for walls, cars, doors, lockers and laptops. They go on, stay on and remove cleanly over time and never leave residue or cause damage. PeelPets™ are ultra-repositionable so they can be applied and reapplied over and over.
A portion of every PeelPet™ sold goes directly to an animal charity. The company is welcoming all established local and national animal charities to list their organization with peelpets.com. Upon checking out from the online store, customers get to choose which charity they would like PeelPets™ to make a donation to on their behalf.
PeelPets™ will work closely with established organizations that are interested in being brand and affiliate partners. The Peelable Pets can be custom printed with a charity's name and brand so that they can be used as a Fundraising Vehicle.
PeelPets™ look real. When applied to the window of a vehicle, a PeelPet™ looks as though the animal is inside.
When a PeelPet™ is used as a laptop sticker, a car sticker, as wall décor or as a cool way to style your skateboard, it shows support for animals in need.
At PeelPets.com people pick from various breeds of dogs and cats to reptiles and rodents. Whether you are a Husky, Lab or Terrier fan, there is a PeelPet™ that is just right for you. The company will be adding animals on a continuing basis.
Conficca, LLC developed and promotes the PeelPets™ brand for animal enthusiasts and for the benefit of animal welfare.
# # #