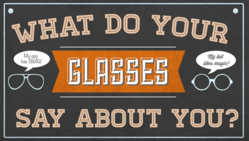 Michigan City, IN (PRWEB) June 18, 2013
PeeperSpecs.com, a leader in eyeglass trends, just recently released a high-impact infographic that details the various glasses styles on the market and deconstructs what they say about a wearer's personality.
Glasses are a permanent fashion accessory that can speak volumes about an individual. PeeperSpecs' infographic attempts to highlight a number of different styles of glasses that are worn by some very iconic characters in the public arena. Peepers hopes to provide insight into the type of reading glasses that might best complement the preference and personality of the wearer.
"When searching for reading glasses online, it can sometimes be difficult to figure out which styles will both look the best and offer the best expression of your individuality," said a PeeperSpecs representative. "Sometimes the perfect way to determine the design that you like is by looking at what's being worn across popular culture. Our infographic attempts to offer the 'ultimate guide' to determining exactly what designer reading glasses say about the wearer, and will hopefully help our client base identify which pair will look best without having to try them on."
This infographic list several different well-known styles that are sported by celebrities. With the two-part description for each of the stars, stylish reading glasses, the infographic attempts to break down the different styles of reading glasses in an interesting and thought-provoking way. The company stresses the importance of finding the right pair of glasses for the individual, and helping others to do the same.
When it comes down to choosing the right style of men's or women's reading glasses, PeeperSpecs encourages people to embrace what their glasses say about them, and reminds readers that for many glasses are an accessory as well as a necessity.
About PeeperSpecs.com:
PeeperSpecs provides hundreds of reading glasses and features styles from around the globe. Located in the heart of the Midwest just outside of Chicago, IL, the company prides itself on a wide selection of glasses in addition to amazing customer service. For more information, visit them on the web at http://www.peeperspecs.com/.