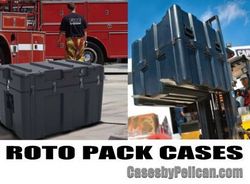 Montclair, CA (PRWEB) September 8, 2009
It's a tough world out there. Sensitive military and industrial equipment can expect to take a beating in transit. Unless, of course, all hardware is wrapped in the innovative rotationally molded and rack mount enclosures offered by Pelican Hardigg - a powerful new alliance against the damaging impact of vibration and rough handling in not-so-nice environments.
Pelican-Hardigg Cases is now offering 10 sizes of the Ruggedized ROTO-PACK Cases on a quick ship mode for the transport and protection of large and extra-large equipment. These rotationally molded seamless Polyethylene shells are lightweight yet shockproof, and ready for global missions in every hemisphere. Resistant to chemicals and heat, they also are watertight and dustproof. And interior custom foam fixtures are available to stabilize and protect equipment against unexpected impact. The new line of Pelican Hardigg cases is the perfect ally when moving big equipment short and long distances.
Hardigg, which was acquired earlier this year by Pelican Products, is a 50-year-old firm hailed for the development of ideal solutions for military and industrial packaging. The Ruggedized Hardigg Shipping Cases are exceptionally protective because of the rotational mold technique. Structural grade plastic resin is put into a series of molds. They are then heated and slowly rotated on both the vertical and horizontal axis. As a result, the corners and edges of these shipping cases are molded 15-20 percent thicker than flat surfaces, providing additional strength and superior impact protection where nasty assaults are most likely to occur.
Modern, innovative features are standard issue with all Ruggedized Shipping Cases. Recessed hardware allows for extra protection while the large easy to use wing quarter-turn catches allow for fast, efficient access. Positive anti-shear locks prevent lid separation after impact. Comfort grips and two embedded wheels make it easy to maneuver even the largest Pelican cases. And molded-in ribs and corrugation allow for secure, non-slip stacking, columnar structural strength and added protection.
The new Pelican Hardigg alliance delivers durable shelters for the bulky necessities of industrial and military campaigns. Each case comes with a lifetime guarantee - and a brand-new standard of excellence.
CPD Industries is the leader in protective packaging solutions serving the consumer, military, and industrial markets under one corporate umbrella. For more info about the new Pelican Hardigg Roto Pack line, visit http://www.casesbypelican.com; call 800-882-4730 in the U.S. or 909-613-1999 internationally; fax 909-465-5598; or write to CPD Industries at 4665 State Street, Montclair, CA 91763.
# # #