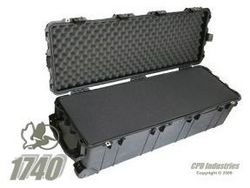 depth interior. A padded lid is 2 3/8
Montclair, CA (PRWEB) July 14, 2009
Despite the considerable investment, trade shows and expos are an important means of economic development for OEMs and manufacturers. But not if the equipment meant for exhibit arrives damaged beyond repair. Business people demonstrate good sense, and lose the worry and hassle, when the essentials of success are shipped in the mobile, crushproof Pelican 1740 case.
The 1740 Pelican case by CPD Industries absorbs the bumps and bruises of travel with Pick n' Pluck interior foam. It also provides priceless peace of mind for companies that risk entry and rental fees, cost of design and display construction and lodging expenses when they take their show on the road. With 2,500 trade shows scheduled annually in American cities, a lot can go wrong. But not with Pelican cases.
The American dream is alive and well for OEMs, manufacturers and industrial firms who like to compete. This reliable and reusable packaging solution is designed for all the challenges of the open road.
Loading in for a trade fair is swift and easy with this mobile 1740 Pelican case. Glide to display booths, near or far, with high-grade polyurethane wheels fitted with stainless steel bearings. Lifting and shifting are effortless with two heavy-duty fold-down side handles and a durable, lightweight solid body design. Stacking for storage is carefree with extra deep cleats embedded in each multi-purpose transport case.
Exhibitors setting up displays will access equipment, electrical components and promotional materials quickly with the standard issue easy-to-open double-throw latches. Security concerns in a large public place are understandable, but not necessary when partnering with the 1740 shipping case: it is equipped with stainless steel padlock protectors. Load up and lock down.
City rainfall and dusty pollutants are no big deal, nor is crushing air pressure resulting in altitude changes when flying here and there. All those troubles are thwarted by the case's o-ring seal and automatic pressure equalization valve. Hard knocks and temperatures ranging from -10 to 210° F are no threat to the 1740 Pelican, because it is field-tested but not world weary. All Pelicans roll with an unconditional lifetime guarantee.
Widgets, test instruments, mechanical devices, technology, and prototypes will fit comfortably in the spacious 13 1/2"W x 41 5/8"L by 9 1/2" depth interior. A padded lid is 2 3/8" deep. Empty, the 1740 Pelican case weighs about 23 lbs. Stock color: Black.
Trade fair or expo, Pelican exhibits safety and endurance. CPD Industries wins best of show.
CPD Industries provides the community with the most comprehensive packaging solutions available on reusable carrying cases for applications such as Communications, Photography, Computers, Electronics, Weapons, Medical, Transportation and other industrial shipping and carrying case uses. For more info about the new Pelican case, visit http://www.casesbypelican.com; call 800-882-4730 in the U.S. or 909-613-1999 internationally; fax 909-465-5598; or write to CPD Industries at 4665 State Street, Montclair, CA 91763.
Media Contact:
Tatiana Briceno
(909) 613-1999
(800) 882-4730
###