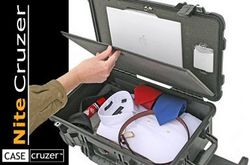 They take your bag. And you just pray at that point
Montclair, CA (PRWEB) February 19, 2008
The NiteCruzer 1510 laptop case introduces the latest addition to a comprehensive line of carry-on luggage by Pelican Cases. Business nomads with an eye for trailblazing amenities are chucking dual shoulder bags in favor of the new suave and sleek NiteCruzer - the toughest airline-legal carry-on baggage available today. This innovative spin on air travel marks the end of those days when technology and personal belongings required separate but equal spaces.
The mobile NiteCruzer 1510 is yet another progressive CaseCruzer design. This cutting edge laptop case with its spacious interior gives globetrotters ample storage for personal belongings. Yet it also pampers laptops with a protective lid compartment that is ideal for the Apple MacBook Pro 13.3-, 15-inch or the new MacBook Pro Air.
Arrivals and departures are always smooth with NiteCruzer's deluxe 17-inch retractable extension handle, which allows world-class voyagers to roll in and out of any hemisphere with ease. And since the new NiteCruzer1510 is equipped with side and front handles, assistance won't be necessary when hoisting it into an overhead bin.
Fortune-hunters who travel with laptop cases - and who doesn't? - can easily survive the onslaught of tiresome travel conditions because NiteCruzer is a veritable fortress on wheels. The metal reinforced padlock protectors add strength and extra security against cutting, theft and air turbulence. And if travel plans demand that you tolerate stormy weather or seasonal downpours, the waterproof NiteCruzer by Pelican Cases with buoyancy up to 64.2 lbs is capable of rising to nearly any occasion.
Road warriors Bruce Johnson and Christine Toy Johnson of ReImagined World Entertainment have spent a lot of time on aircraft this past year. "The laptop is always critical, especially now. When we're on the road, we have to take two. One for writing, and one for design and editing needs," said Bruce Johnson. "I'll often have two different carry-ons. But I tend to try to find an all-in-one bag that will carry both my laptop and other things."
The Johnsons have encountered the full menu of travel headaches. But the most feared is when they fly into a major airport and transfer to a "puddle-jumper" aircraft to travel to remote locations. Often no bags may be carried onto these small planes. "They take your bag. And you just pray at that point," Johnson said.
No prayers needed when rolling with NiteCruzer laptop cases. Although the peerless carrying NiteCruzer by Pelican Cases weighs only 15 lbs when empty, it comes with standard features, such as water and dustproof neoprene o-ring seal, automatic purge valve with Gore-Tex® membrane, and easy to open double-throw latches. And, as always, all Pelican Cases come with a lifetime guarantee.
However, the NiteCruzer 1510 is designed to provide moderate protection as a carry-on. It is not intended to be used as a shipping container or check-in luggage. CaseCruzer has developed other products for heavy duty protection.
Nevertheless, when making cross-country or trans-continental trips and going the extra mile to achieve your business dreams, everyone deserves to upgrade to a dependable overnight travel laptop case so that they can finally experience peace - on Earth and in the air. Think the new NiteCruzer is special? That's right. But when you hear the name CaseCruzer, think Pelican Plus.
For more information on the new NiteCruzer 1510 laptop case, visit http://www.casesbypelican.com. Pelican Cases can also be reached by calling 800-440-9925 in the U.S. or 909-613-1547 internationally; faxing 909-613-1979; or writing to CaseCruzer at 4665 State Street, Montclair, CA 91763.
Contact:
Mike Bearden
909-613-1999
M-bearden @ CPD-industries.com
###