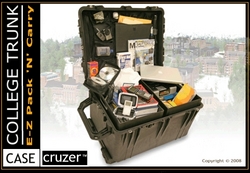 Montclair, CA (PRWEB) December 23, 2008
Everybody from the first-year coed to the Big Man on campus knows dorm life is temporary. Winter holidays, spring break and graduation day keep students moving. But it doesn't take an Einstein to realize gathering clothes, books and a laptop can be as easy as Party Life 101 with the new College Trunk Pelican Case.
The College Trunk & Footlocker by CaseCruzer gives every college student mobility, convenient storage space and even security: the trunk can be padlocked to protect money and other valuables. There is ample space for personal documents, iPods, extra clothes, medicine, digital cameras, and even non-perishable snacks often needed at odd hours when cramming for finals. One aspect of campus life the Pelican cases can't improve: dorm food.
Getting from freshman year to graduation day is a smooth ride with the College Trunk. Two side folding handles and an extendable handle make this case versatile and, unlike some roommates, cooperative. The case also comes with stainless steel ball-bearing wheels and polyurethane tires for swift trips home, to the beaches of Florida or a summer internship on Wall Street. And since this carrying case loves to fly, it is perfect for airport navigation and anyone who aspires to "higher" education.
CaseCruzer's College Trunk is better than a typical dorm trunk because it is equipped with three secure storage areas. The deep and wide base of the case is for all the bulky necessities that campus life demands: text books, writing materials, laptops, seasonal clothing, extra bedding, digital gadgets, teddy bears or baseball gloves.
Two trays sit on top of the main storage area for day-to-day stuff, like purses, wallets, money, keys or ear plugs and reading glasses (for students who find it necessary to occasionally study).
A file organizer in the lid of the College Trunk is perfect for sensitive and confidential documents, such as statements or transcripts that include social security numbers, checkbooks, plane tickets, passports and student identification cards. The lid also includes convenient zipper pouches where miscellaneous, easy-to-misplace items can be safely stored.
The average dormitory can be a raucous, fun-loving environment, where guys and gals roam the hallways and the inner sanctum of each other's rooms. Not that students are thieves, but some have been known to borrow clothes and hygienic products. That's why CaseCruzer has designated its College Footlocker & Trunk as an anti-theft zone. The durable luggage is fitted with dual flanges that can be secured with padlocks. When some private space in a public place is needed, lock it up with CaseCruzer.
This footlocker is also compact for convenient storage in tight rooms. Exterior dimensions are 31.50" L x 22.88" W x 18.88" H. Interior dimensions are slightly less, with a generous lid depth of 3.50" and a base depth of 13.88". The case weighs only 48 lbs.
Like all Pelican cases, this indestructible, mobile storage unit comes with a certificate of excellence: it is designed with a water-tight seal that guarantees 100 percent protection from moisture; it is dust and sand proof and meets IP66 and IP67 specs. And unlike a college romance, each case is backed by Pelican's unconditional lifetime warranty.
When campus life calls, padlock 'n' roll with Pelican. When you see the name CaseCruzer, think higher education.
The CaseCruzer network of companies provides the community with the most comprehensive packaging solutions available on reusable carrying cases for applications such as Communications, Photography, Computers, Electronics and other carrying case uses. For more info about the new Pelican case, visit http://www.casecruzer.com; call 800-440-9925 in the U.S. or 909-613-1999 internationally; fax 909-465-5598; or write to CaseCruzer at 4665 State Street, Montclair, CA 91763
###