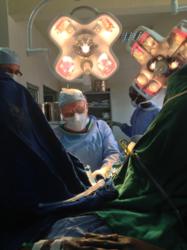 "This is the one condition that women don't discuss among themselves," Dr. Owens said. "They don't share the fact that they have a bladder control issue with their girlfriends over lunch. But we can help them!"
Cincinnati, OH (PRWEB) April 23, 2013
Cincinnati area pelvic surgeon Dr. Greg Owens has perfected a minimally-invasive, robotic surgery which eliminates fallen pelvic organs and bladder leakage in women suffering from this common, yet embarrassing condition. Now having performed 70 surgeries with 100% success, Dr. Owens is announcing this as a standard of care for women who fit the criteria for surgery. Dr. Owens estimates that about 25% of women between the ages of 39-55 suffer from bladder leakage or other pelvic floor disorders. Unfortunately, many of them never seek medical treatment due to embarrassment or the misconception that it is just a part of aging.
"This is not a normal condition," said Dr. Owens. "It is something that affects a great number of women and one that can be easily fixed. With the ability to perform this surgery robotically, it allows us to lift the bladder with a minimally invasive procedure. The woman's life can return to normal, allowing her to laugh, cough, or sneeze without the embarrassment of bladder leakage."
The condition, called pelvic organ prolapse is caused when the muscles supporting the internal organs (uterus, bladder, vagina or rectum) have weakened over time due to aging, childbirth, strenuous exercise or weight gain. When the supporting tissue cannot hold the organs in place, they fall to an unnatural position within the pelvic area, causing a myriad of problems. Women can experience anything from organs bulging from the vagina, to a heavy feeling in the pelvic area, obstructive urinary symptoms, or the strong urge to urinate with no success, and even the inability to have regular bowel movements. While not life-threatening, the problems can affect every area of a normal lifestyle as women are afraid to leave their homes, have no desire for, or experience painful sexual relations, or are uncomfortable doing everyday chores like shopping, housework, or even walking.
With the ability to robotically perform this surgery, the healing is much quicker, less painful and the woman can return to normal activities within a few days.
"This is the one condition that women don't discuss among themselves," Dr. Owens said. "They don't share the fact that they have a bladder control issue with their girlfriends over lunch. But they come into my office and tell me the symptoms hoping I can fix their problem--and I can. There is a much better solution than learning to live with the condition."
Dr. R. Greg Owens, Advanced Pelvic Surgery, is located in the northern suburbs of the Greater Cincinnati area, near I-75 and I-129. In addition to his day-to-day practice of pelvic surgery, Dr. Owens spends two weeks each year in Africa or Rwanda working with the International Organization for Women Development. He specifically operates on women with fistulas. It is a condition that affects many women in third-world countries and ostracizes them from their home life and society. To find out more about this condition, visit his web site at http://www.advancedpelvic.com