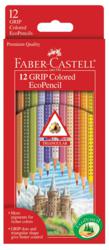 Cleveland, Ohio (Vocus/PRWEB) March 21, 2011
Faber-Castell has been manufacturing high quality wood-cased pencil products for 250 years. Now, in recognition of the importance of environmental awareness, the company expands its line of EcoPencils made of reforested wood. Children can enjoy using these pencils for coloring and drawing projects at home and in school. The wood used for the EcoPencils comes from Faber-Castell forests that are FSC-certified- this warranty insures that the wood used is obtained from renewable and sustainable sources, contributing to the preservation of the environment. So not only are these pencils fun to use with lots of bright colors, kids and parents can feel good about the "green" aspect too!
Other features of Faber-Castell EcoPencils include highly pigmented leads that are SV-bonded to resist breaking, and most have an ergonomic triangular shape that makes them more comfortable to hold and easier to use. The pencils are non-toxic, acid free, and conform to ASTM D-4236.
Short Jumbo Triangular Colored EcoPencils are the perfect first pencil. Their jumbo shape and shorter barrel helps guide little hands to hold the pencil correctly. Plus, the adorable designs on the barrel will amuse kids as they color. Available in a 12-color pack that includes a free jumbo pencil sharpener for $8.00. With the popularity of the Short Jumbo style of pencil, the company decided to expand the line with the introduction of the Jumbo Triangular Colored EcoPencils in 2011. Similar to the Short Jumbo EcoPencils, these pencils are extra thick but have a full-length barrel. The 12-color pack costs $8.00, and comes with a free pencil sharpener. A slimmer style, Triangular Colored EcoPencils, is available for older kids – 12-color pack for $3.00 and a 24-color pack for $6.00.
GRIP Colored EcoPencils bring innovation and fun to coloring with their slim triangular barrel and GRIP dots for better control, and they won't roll away. The bright, saturated leads make every child's art more vivid. GRIP Colored Eco Pencils are available in 12-color packs for $6.00, and 24-color packs for $12.00.
There is also a watercolor version – GRIP Watercolor EcoPencils – where the watercolor paint is in the pencil. The smooth colors dissolve instantly when you brush over them with water. These are available in 12-color packs for $7.00, and 24-color packs for $14.00. Use them with the Faber-Castell Watercolor Pad that's designed for watercolor artwork and is made from 50% post-consumer recycled materials.
Metallic Colored EcoPencils have metallic pigments that add glints of shimmer and sparkle to children's artwork. These bright colors work especially well on dark paper. The 12-color pack costs $6.00.
For kids who want to maximize the coloring and drawing experience, try MAX Colored EcoPencils, the strongest colored pencil, ever! These pencils have 33% thicker leads than regular colored pencils which means they last longer and have even smoother color lay down, and they wood grain is aligned a new way that makes them easier to sharpen.
MAX Colored EcoPencils are perfect for teachers and others who want high quality colored pencils at a reasonable price. The 12-color pack is $4.00, and the 24-color pack $8.00. There is also a school pack for 24 students with 288 pencils and free sharpeners for $96.00.
Founded in 1761, Faber-Castell proudly celebrates its 250th Anniversary in 2011. The company is an environmentally responsible manufacturer of premium art products for children. Our pencils, markers, crayons, and other art materials are designed to bring out the artist in every child. Our EcoPencils are made from reforested wood from Faber-Castell forests that are FSC certified, a warranty that the wood is obtained from renewable and sustainable sources, contributing to the preservation of the environment.
###